YouTube Is Serving Ads for Hardcore Porn on Trending Videos: https://video.vice.com/en_us/article/59jkda/youtube-porn-ads-pewdepie-dude-perfect
YouTube has a porn problem on some of its popular videos, and it seems to be coming from the same mysterious source.
Twitter users and YouTubers have been complaining about an ad that has shown up before videos on popular YouTube pages, including Pewdiepie, Markiplier, and Dude Perfect. The ad shows a woman gyrating (not porn!) but features a link to something called "Hot Girl 2018" in the bottom left, which has a photo of two people fucking and links to a cam model website (porn!) The ad was delivered on a video that was trending in some countries earlier Tuesday.
Motherboard has tracked down the ad to a YouTube channel called "1.347.852 views," which has uploaded four videos of a the same woman dancing and has an avatar of a woman holding a child. One video from that channel, titled "Sequence 01 2," is the same as the ad that is showing up on other videos.
When some users go to a video, they see this ad autoplay before the video. In the bottom left corner, while the ad plays, there's a thumbnail image of people having sex. The link goes to a CamSoda-branded cam model page. The video currently has more than 300,000 plays.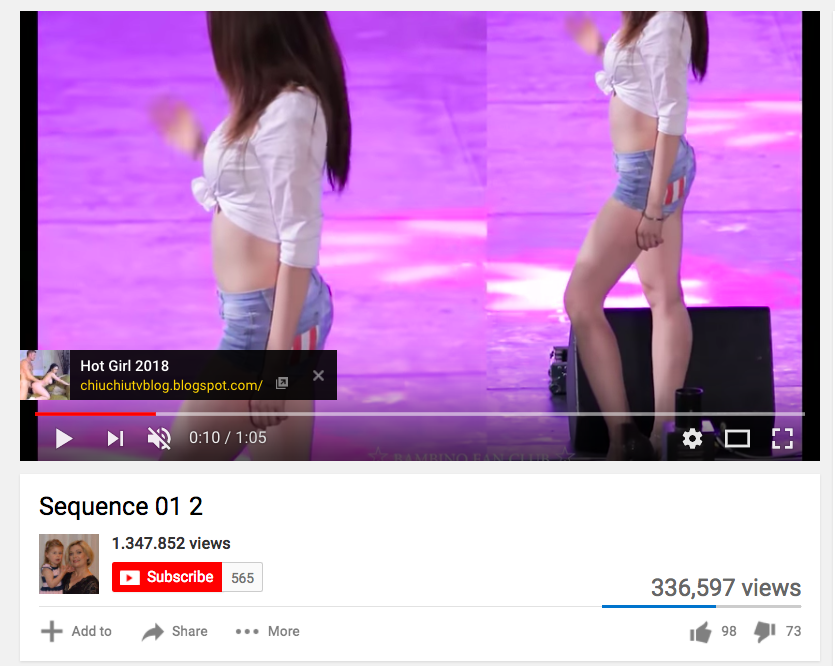 People are Upset about this on Twitter, with lots of people tagging YouTube in complaint tweets on the platform. A search of Twitter for "youtube porn ad" shows sporadic complaints about porn advertisements, either on the videos themselves or in the sidebar, going back at least as far as December. Within the last few days, however, tweets to YouTube asking about one specific ad have become more frequent, and more outraged.
The Google AdWords advertising policy, which dictates what ads go on YouTube videos, states that "adult content" is prohibited in advertisements. The page for reporting ads that violate these policies says that "some ads may run on Google before our AdWords Specialists check them."
"We have clear policies against ads featuring graphic adult content," YouTube said in an emailed statement to Motherboard. "When we become aware of an ad that violates our policies, we immediately remove it and take appropriate action, including, and up to, suspending the responsible account."
YouTube is replying to people on Twitter who complain about the ads with a link to the AdWords troubleshooting page.
April 10, 3:35 p.m. EST: This article was updated with a statement from YouTube.