Posted by Ami Tiel | Dec 1, 2017 | ADN News, Media |
The Suspicious Death of Congressman Joe "Morning Joe" Scarborough's Dead Intern – Lori Klausutis
Is the Morning Cup of Joe left with nothing but dregs following the Suspicious Death of Lori Klausutis being reopened?!?
President Trump tweeted this reference to Joe Scarborough and an "Unsolved Mystery" that has got the internet buzzing.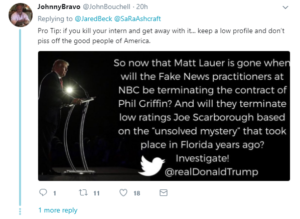 Google trends have spiked with this latest breadcrumb. And checking Joe Scarborough's twitter show 52% are fake bots (I guess that's all the Tweets he has sticking-up for him
🙂 ) …. FAKE TV HOST…. FAKE POLITICIAN (who had a murdered intern – or did the intern know too much?)….and FAKE TWITTER FOLLOWERS
Unbelievably, that was it. The story was simply dropped. A young female employee of one of Florida's Congressmen had died unexpectedly in the Congressman's office. There were no witnesses to her death and the cause of death was not apparent. Her boss, Joe Scarborough had recently resigned from Congress prematurely and unexpectedly, amid rumors about his marital fidelity and soon after a divorce. He had also abruptly resigned as publisher of the Independent Florida Sun, claiming that resigning from Congress and as publisher was necessary to spend more time with his sons.
Her name was Lori Klausutis. She was an Intern for Joe Scarborough and was found dead in his office…does anyone remember her?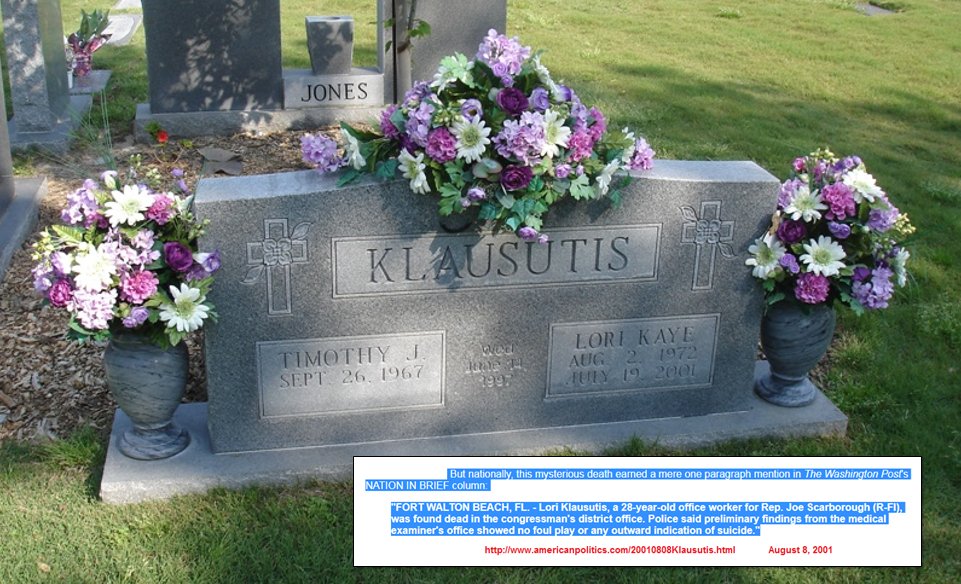 Joe Scarborough used to serve as a U.S. Republican Congressman from Florida's 1st District from 1995 – 2001, he shortly resigned five months into his fourth term in September 2001. Two months before his resignation , his intern Lori Klausutis, 28, who had served as a constituent services coordinator since May 1999, was found dead inside his Fort Walton Beach office slumped next to a desk on the floor. Her body was found around 8:00 a.m. on Friday morning July 20th by a couple arriving for an appointment. She had been dead for some time.
Fort Walton Beach Police Chief Steve Hogue said that preliminary findings from the medical examiner's office of Dr. Michael Berkland showed "no foul play or any outward indication of suicide." The official autopsy report stated her death was an "accident" attributed to – "undiagnosed cardiac arrhythmia" and due to this fact her "breathing stopped she fell and hit her head, on an office desk and died," ME Berkland said.
Scarborough's press secretary, Miguel Serrano also stated that Klausutis had known prior "health conditions" but didn't provide specifics when questioned. And Scarborough himself told reporters that she had a "complicated medical history" including "stroke and epilepsy."
So how did Klausutis die then?
AMPOL (American Political Journal) pointed out.
4. "Were Lori's medical records thoroughly examined for any evidence of the pre-existing heart condition? It would seem that someone must have examined her heart if she ran 8Ks.
5. "Did Dr. Berkland personally examine the site of death in undisturbed condition in order to support his later conclusion that the physical evidence was compatible with his later conclusions?
6. "Presumably the heart valve condition alluded to is Mitral Valve Prolapse. This may be associated with arrhythmia, but rarely with VTach (Ventricular Tachycardia) or VFib (Ventricular Fibrillation), the only arrhythmia which would stop the flow of blood to the brain.
7. Dr. Berkland and his supervisor at the time, Dr. Gary Cumberland were known to be high-giving donors to Scarborough's Congressional campaigns. Did their relationship with Scarborough influence any and all the results issued by the M.E.'s Office?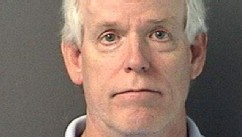 Curiosity also peaks when you learn medical examiner Dr. Berkland's medical license in Jackson County, Missouri was revoked in 1998 as a result of him reporting false information regarding brain tissue samples in an 1996 autopsy report. His doctor's license was ultimately revoked there.
He then moved to Florida in July 1996, Berkland was suspended from his position as Pensacola District 1 Medical Examiner in the State of Florida in 1997. Yet in 2001, he was issuing reports on Klausutis' death that were questionable if not outright false.
He was then fired in 2003 for not completing autopsy reports. Berkland's license to serve as a medical examiner in Florida was also withdrawn.
Further the man was arrested in 2012, for storing human body parts; crudely preserved brains, hearts, lungs and other organs and specimens were discovered in a storage unit at Pensacola's Uncle Bob's Storage that Berkland rented for about three years. The unit was auctioned off after Berkland defaulted on his payments, according to an arrest affidavit. Ten cardboard boxes stacked in a corner of the unit contained "numerous individual containers with … human remains stored in a liquid mixture of formaldehyde and methyl alcohol," according to the affidavit. Lungs, hearts, tissue samples and 10 brains were found Aug. 22, 2012 in the storage unit. There were body parts from more than 100 people found in the air conditioned unit authorities stated.
Berkland was charged with – improper storage of hazardous waste, after investigators found formaldehyde, which is used to preserve bodies, leaking from a 32-ounce drink cup with a cracked lid – and opened it to find a human heart inside; keeping a public nuisance and driving with a suspended license according to CBS News.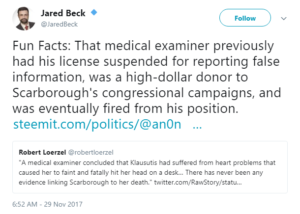 Another concerning aspect in cast of characters in this "unsolved mystery" are the officers. Police Chief Steve Hough oversaw the Congressman Scarborough intern's death investigation. According to HighwayRobberyTampa website, (Chief Hough was also a police Chief in Tampa [that was] overseen making sure cops had quota's and met their arrest and ticketing quota's).. "dirty-cop more about the money than law"… so we have the medical examiner arrested for storing body parts in a storage unit and a [potentially] "dirty" police chief.
There is a nice synopsis from Infowars Article TRUMP: INVESTIGATE SCARBOROUGH OVER DEATH OF INTERN
Note: a) Two Fort Walton Beach officers who witnessed the autopsy of Lori Klausutis, an aide to U.S. Rep. Joe Scarborough, reported her skull had been fractured, which wasn't mentioned in the final autopsy report. The extent of the head injury has never been reported by those investigating the July 20 death of the 28-year-old at Scarborough's Fort Walton Beach office. The body, which had apparently lain on the floor all night, was discovered about 8:30 a.m. by a couple arriving to discuss a work permit issue with Klausutis.
b) family of murdered intern said she had NO heart conditions and did a 8KM run finishing in excellent time.
c) Scarborough allegedly referenced her death during an appearance on the Don Imus radio show, but nearly all audio evidence of this exchange was deleted from the Internet, including the audio track from YouTube video that Infowars has posted (not including dirty police chief and medical examiner who was storing dead body parts in a storage unit)
The popular young aide's death was ruled accidental with a cardiac arrhythmia causing her to fall and hit her head on a desk. The autopsy makes no reference to a time of death. Why is that a key omission? Consider this from an online document titled "Determining Time of Death (TOD)":
Why is it important to know the time of death?
•TOD can set the time of murder
•Eliminate or suggest suspects
•Confirm or disprove alibis
Why did Berkland not include this critical detail? It's not as if his report does not provide plenty of other details. He tells us that Klausutis was wearing a white thong on the day of her death. (Page 7.) He tells us that she had a "shaved genital region." (Page 8.) But no time of death?
The core of the autopsy report can be found in the comment section, pages 3-7. This probably is the central finding:
There is no doubt that the head injury is as a result of a fall, rather than a blow being delivered to the heading by a moving object. Lori has a classic "contrecoup" injury, or bruise to the brain, meaning that her brain was bruised on the opposite side from where the external force was applied. The left side of Lori's brain was bruised while the external abraded contusion (scratch and bruise) was in the right temple region. The contrecoup contusion results when a freely moving, mobile head strikes an unyielding, firm, fixed object in a fall, as in the floor, or in this case, the desk. This finding is in marked distinction from the "coup" contusion, or that injury which results from a moving object (example–a ball bat) that strikes a stationary head. In the coup injury, there is bruising of the brain on the same side as the external injury. There was no coup contusion in Lori Klausutis.
What would cause a seemingly healthy young woman, an avid runner, to collapse and lose consciousness, unable to break her fall? Berkland rules out some of the common causes of such an event–a pulmonary embolus, a brain hemorrhage, a ruptured aneurysm, drug issues. He concludes:
These facts leave only a cardiac arrhythmia as the reason to go unconscious and subsequently fall and strike the desk in an unprotected fashion. If Lori's heart was normal, it would be problematic to postulate a plausible reason for a cardiac arrhythmia in such a young person. However, her heart was not normal. The heart contained an abnormality (floppy mitral valve) that is known to result in cardiac ectopy and dangerous cardiac arrhythmias.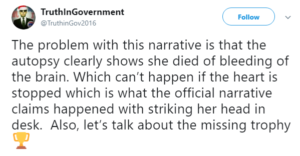 Investigators quickly saw that a blow to the head, delivered accidentally or intentionally, was involved in Lori Klausutis' death. So it's hard to figure why the autopsy makes no reference to time of death. (See full autopsy report at the end of this post; the document originally appeared at webofdeception.com)
Was the Lori Klausutis autopsy conducted in a professional manner? ME Berkland has faced a felony charge of improper storage of hazardous waste, and the grisly nature of the discovery calls his competence–and perhaps his sanity–into question. Can Michael Berkland's work be trusted? Was foul play prematurely ruled out? Should the investigation be reopened, perhaps with renewed scrutiny for Scarborough and others who might have had access to his office at the time?
Scarborough has become a prominent figure in cable television news, serving as co-host of MSNBC's Morning Joe. And many Morning Joe viewers probably have forgotten, or never knew, that the body of a female aide once was found in Scarborough's Congressional office.
Joe's co-host, Mika Brzezinski said President Trump "crossed another deeply disturbing line" Wednesday morning when he floated a conspiracy theory surrounding the 2001 death of one of the congressional aides who worked for her "Morning Joe" co-host and fiance, Joe Scarborough. Mika is the daughter of Zbigniew Brzezinski, President Jimmy Carter's national security adviser and co-founder along with David Rockefeller of the Trilateral Commission.
Thursday on MSNBC's "Morning Joe", is when Scarborough goes crazy. The discussion quickly turns into a several minutes rant, where Scarborough proclaims that President Donald Trump is mentally unstable and unfit for his elected position. Scarborough also went on to 'reassure' his audience that Donald Trump was going to have the whole world involved in a nuclear conflict.
The end of the rant was the real meat-and-potatoes, though. Scarborough concluded by calling on President Donald Trump's cabinet to forcibly remove him from office using the 25th Amendment, citing that Vice President Mike Pence was who the establishment Republicans really wanted and needed. Wow…MSNBC has gone from spreading fake news to inciting a government coup. Dangerous words from a dangerous organization.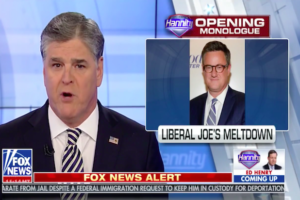 Hannity speculated that a recent Trump tweet — in which the president suggested Scarborough may have been involved in the death of a former intern when Scarborough was serving in Congress — is what sent him over the edge.
"All of the stress at NBC News seems to be getting to crazy liberal Joe Scarborough," said Hannity in his opening monologue on Fox News. "Earlier today, Liberal Joe had a complete mental and emotional breakdown on national television."
Sean Hannity tells Dr. "Liberal" Joe Scarborough he needs "help" for his "obsessive-compulsive hatred" of President Trump.
Autopsy Report (Scribd – The document Lori Klausutis Autopsy has been deleted.) AmericanPoliticalJournal ArchiveLink – DailyNews Autopsy Report Archive Link – PensacolaNewsJournal Wayback Machine – NWFDailyNews Wayback Machine – TruthOut Wayback Machine – AmericanPoliticalJournal – ABCNews – YahooNews – CBSNews – HighwayRobberyTampa – Steemit – DailyMail – Infowars – LegalSchnauzer – EnVolve – WashingtonExaminer