Posted by Ami Tiel | May 22, 2020 | ADN News, Cold Cases, Media| 0 |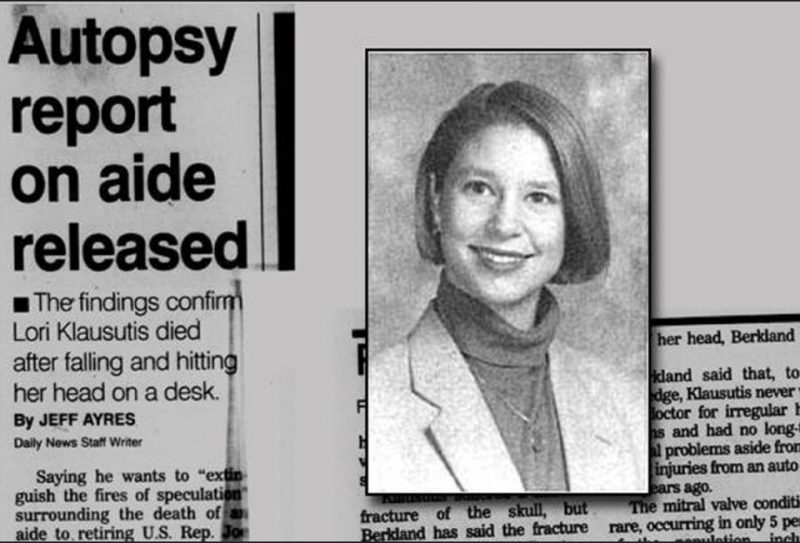 Trump obviously knows the truth. Clearly, the cold case was reopened by the feds. Trump is doing what he does best, sun lighting the death for public awareness and taunting the local police to reopen the cold case. This case will expose many bad actors, not just Scarborough. Who swept this under the carpet at the local, state and federal level. President Trump wants us to know. – Sarah Jordan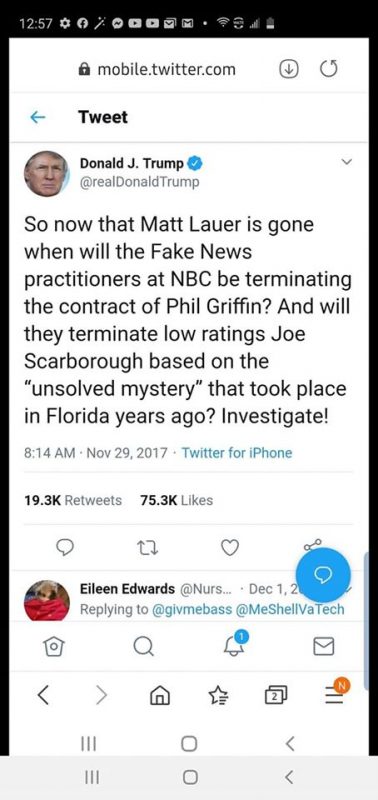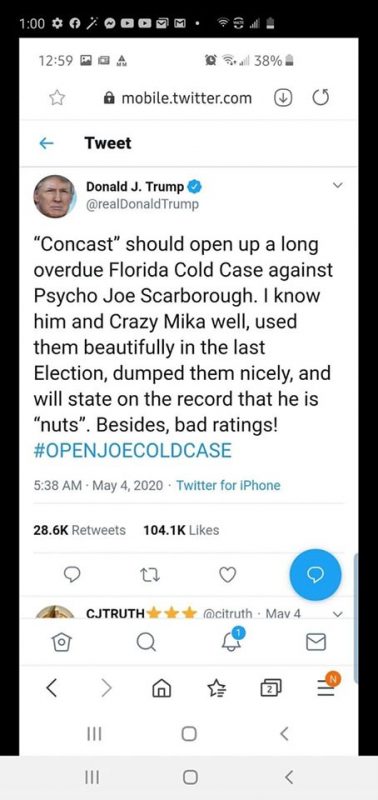 Klausutis, then 28, was found dead at Scarborough's Fort Walton Beach office on July 21, 2001. The coroner ruled the death accidental, stemming from an "undiagnosed cardiac arrhythmia" which caused her "breathing to stop."
Thread by Rosie Memos covers many facets of this still unsolved death. Threadreader LINK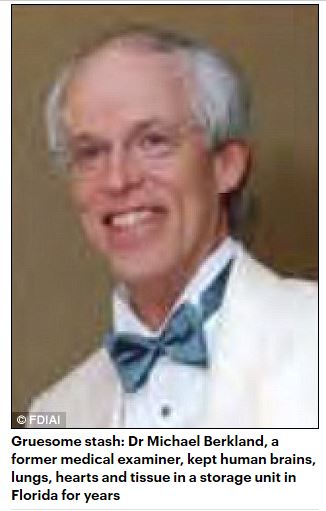 FLASHBACK – DR. MICHAEL BERKLAND, who did Lori Klausutis' autopsy in Florida — and also known to be a Joe Scarborough campaign donor.

DAILY MAIL — Medical examiner 'stashed hearts, brains and lungs from more than 100 people in food containers in his storage unit', Published: 16:08 EDT, 28 August 2012 | Updated: 17:03 EDT, 28 August 2012

◾ Hoard of organs found after man bought contents of unit in Pensacola, Florida and opened the doors to foul stink
◾ Organs found in formaldehyde in drink containers and Tupperware
◾ Unit previously rented by medical examiner Dr. Michael Berkland who was fired in 2003 for failing to complete autopsy reports
◾ Authorities believe organs are from autopsies between 1997 and 2007
◾ Investigating whether any charges will be brought against him

Gruesome stash: Dr Michael Berkland, a former medical examiner. stored brains, lungs, hearts and tissue in a storage unit in Florida

Gruesome stash: Dr Michael Berkland, a former medical examiner, kept human brains, lungs, hearts and tissue in a storage unit in Florida for years.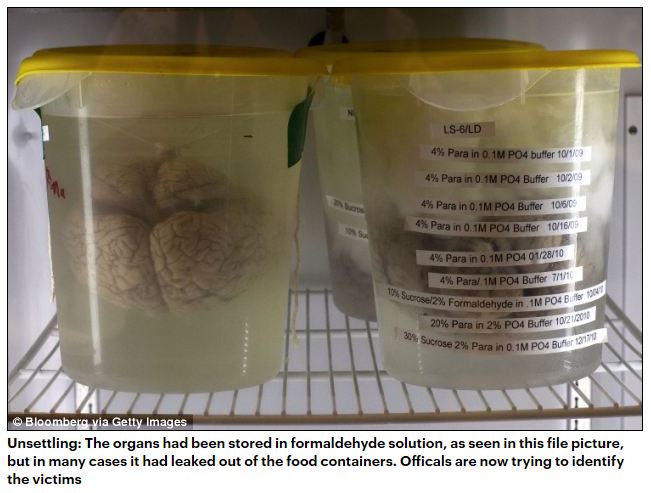 A former medical examiner stashed human brains, hearts and lungs from more than 100 people in soda cups and food containers inside a storage unit, authorities have said.

The remains, which included tissue samples and 10 brains, were found in a unit in Pensacola, Florida that had previously been rented by Dr. Michael Berkland. >>>
The same year Lori died, an investigation found Dr. Berkland had falsified "several autopsy reports" in fact the State of Florida had to amend a report because a different family sued. He had determined natural causes and that was FALSE.


Should be noted the falsified autopsy was the same month he did Klausutis autopsy, which seems to have vanished from the internet.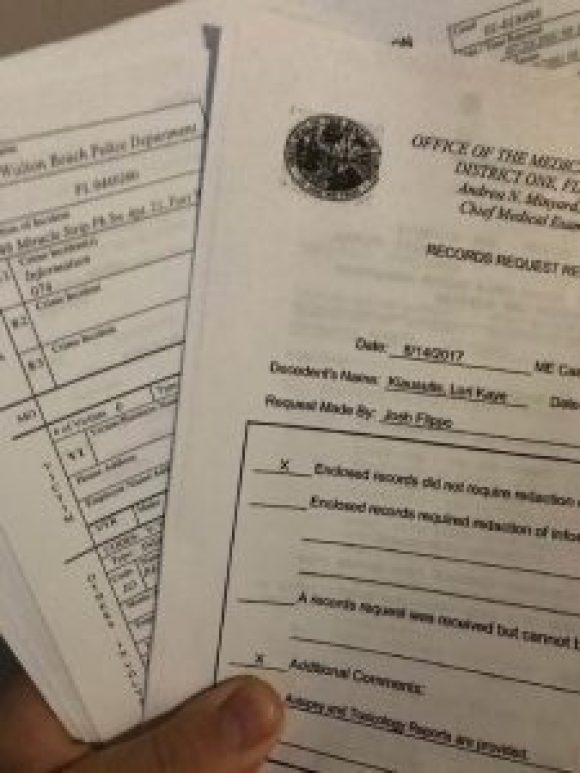 EDITOR ADDITION: Interesting comment concerning autopsy description of Lori… Like you, I was under the impression that Lori Klausutis was petite, quite slender. Pretty sure I've read that in several reports. I was surprised to see that the autopsy report, on pages 7-8, says her body measures 67 inches (5-foot-7) and 149 pounds. A woman certainly can be athletic and in good shape at that size, but it appears Lori was a larger individual than I had thought. Either that, or the autopsy was conducted on the wrong person. In NW Florida, anything seems possible. LINK

Seriously is there anything @The_War_Economy hasn't covered years before anyone else? HA. ( See extensive background on Berkland from The_War_Economy HERE )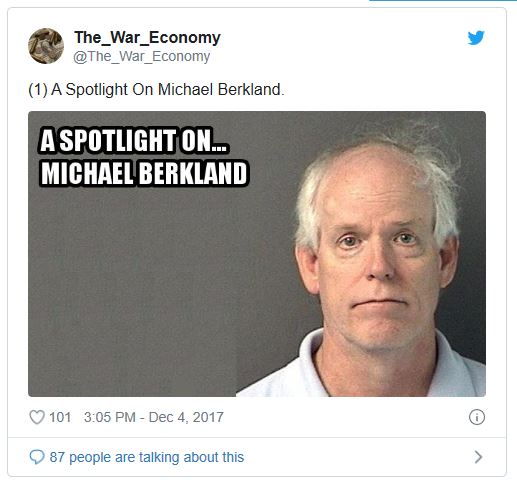 Then there's this, the Chief Medical examiner who oversaw Dr. Berkland (and temporarily took over his job) donated massively to #ColdCaseJoe over @FEC limits.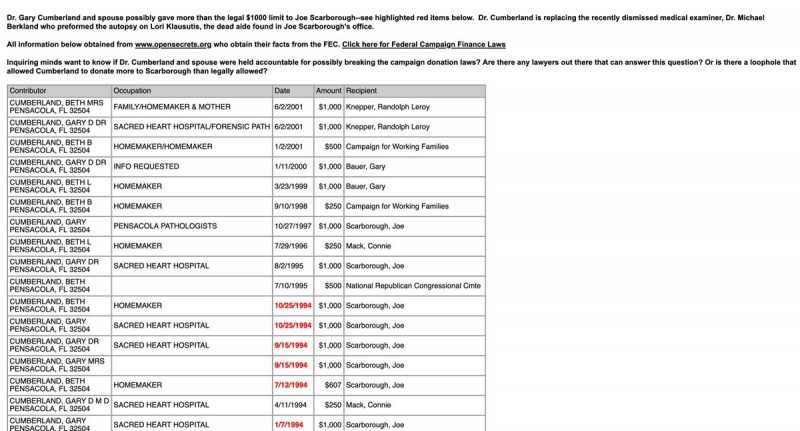 Questions worth asking #ColdCaseJoe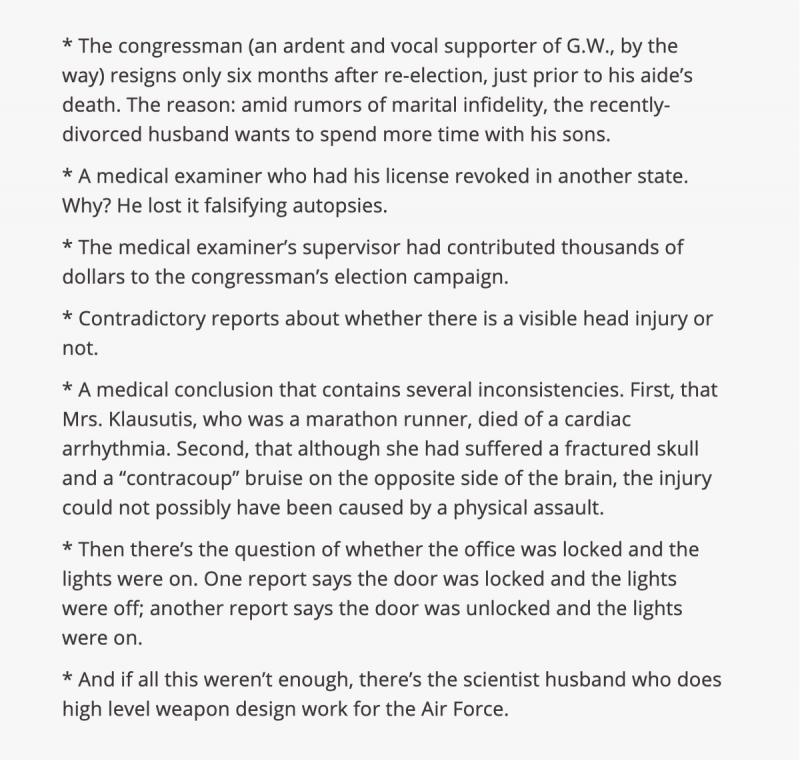 Someone needs to find that autopsy report🙏

"The most important discrepancy that should be answered is how intracranial bleeding could continue if the cardiac arrhythmia had caused a cessation of blood flow to the brain." #ColdCaseJoe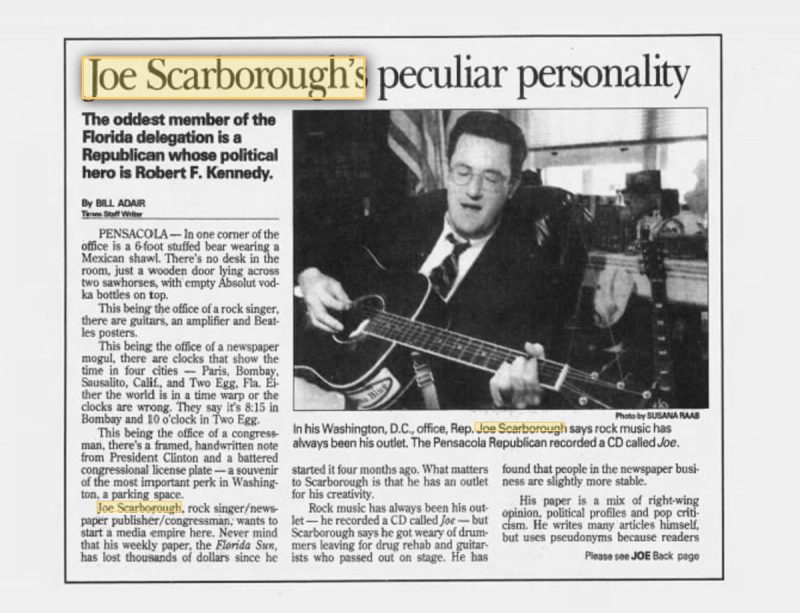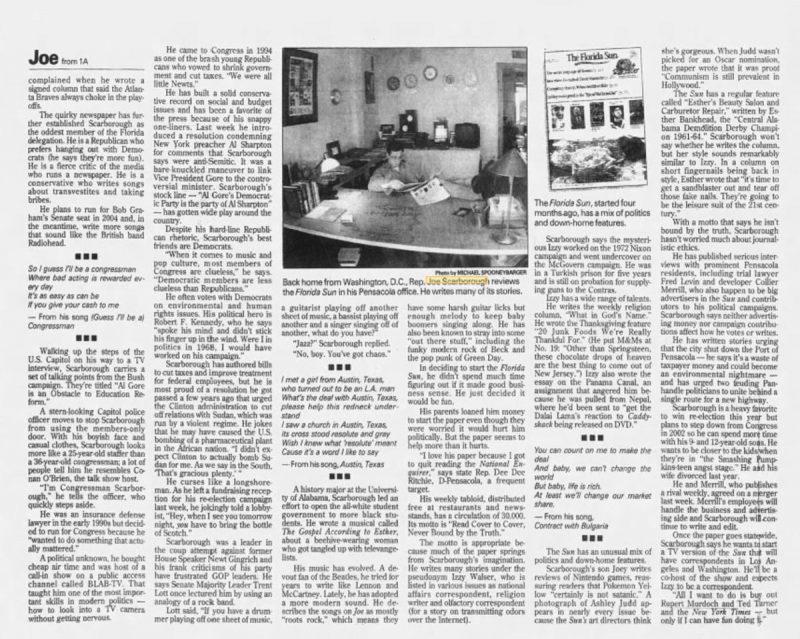 *********************
Another well sourced resource is by An0nkn0wledge on Steemit.com
With recent attacks on President Donald Trump and accusations of threats of blackmail by Joe Scarborough and Mika Brzezinski, the daughter of the co-founder of the Trilateral Commission Zbigniew Brzezinski. Some information about Scarborough's past has come to surface.
No matter what you believe about the exchange between Trump and the two MSNBC hosts the following information is more important than allegations of behavior between the two because it involves the death of a young intern Lori Klausutis and the subsequent cover up. I won't be looking at the speculation of any of the drama. I draw no bias to either side or conclusion until evidence is presented instead, I'll be examining the case of Klausutis who was found dead in Scarborough's Fort Walton Beach office…..
….Then there is Scarborough's alleged odd behavior on a radio show years later after Klausutis death in 2003.
On May 29, 2003, Scarborough appeared on Don Imus's radio show where he made the shocking admission about killing his intern. While complimenting Scarborough on his sense of humor, Imus said, "Don't be afraid to be funny, because you are funny. I asked you why you aren't in Congress. You said that you had sex with the intern, and then you had to kill her." Scarborough laughed and replied, "Yeah, well, what are you gonna do?"
If true this is a tasteless "joke" that had it been made today would have instantly gotten the attention of social media and ruined both men's careers.
Author and film maker Michael Moore also accused Scarborough of killng his intern when he "registered the domain name JoeScarboroughKilledHisIntern.com," and was later sued for his action.
I'll let you draw your own conclusions by the amount of information provided herein. In no way am I personally suggesting that Scarborough killed his intern, in fact, someone of his stature would have that job done for him. I am simply stating that her death is suspicious in my opinion and many things don't add up.
************************
Trump wouldn't be talking about Joe if he didn't have more information . Think of all the things he has said in the past about Hillary, Spygate, etc .. he knows way more than he says which tells me he has inside info on what really went down in Joe's office.
She was for him before she was against him!
THEN….
NOW…
Mika Brzezinski@morningmika·.@twitter need to know why trump is not banned?
Mika Brzezinski@morningmika·. @jack please take my call today. Please stop allowing your platform policies to be abused by the day. It's called libel.
Mika Brzezinski@morningmika·.@jack At what point is @Twitter a part of this? TAKE DOWN TRUMP's ACCOUNT— the world world be safer. Retweet if you agree
Mika Brzezinski@morningmikaAgree but worth trying to talk w @Twitter. It's just crazy that Trump, the chief law enforcement officer of the US is using the power of the presidency to harass someone who is a critic— Nuts that this is accepted. Nuts. #democracy
Replying to @morningmika and @Twitter@Jack has stated that @realDonaldTrump is a "person of notoriety and newsworthy" and will never be suspend under any circumstances
*************************
And Pelosi's take VIDEO LINK
Previous Article by American Digital News…