Hundreds of 'exceptionally significant' artefacts found at Griffith Base Hospital redevelopment site
An archaeologist has described stone tools found at the Griffith Base Hospital redevelopment site as "exceptionally significant", saying they show Aboriginal people camped in the area thousands of years ago.
Key points:
271 small stone tools have been uncovered at the site of the $250 million Griffith Base Hospital redevelopment
The discovery of the artefacts showed Aboriginal people camped at the site thousands of years ago
An archaeologist described the artefacts as "exceptionally significant"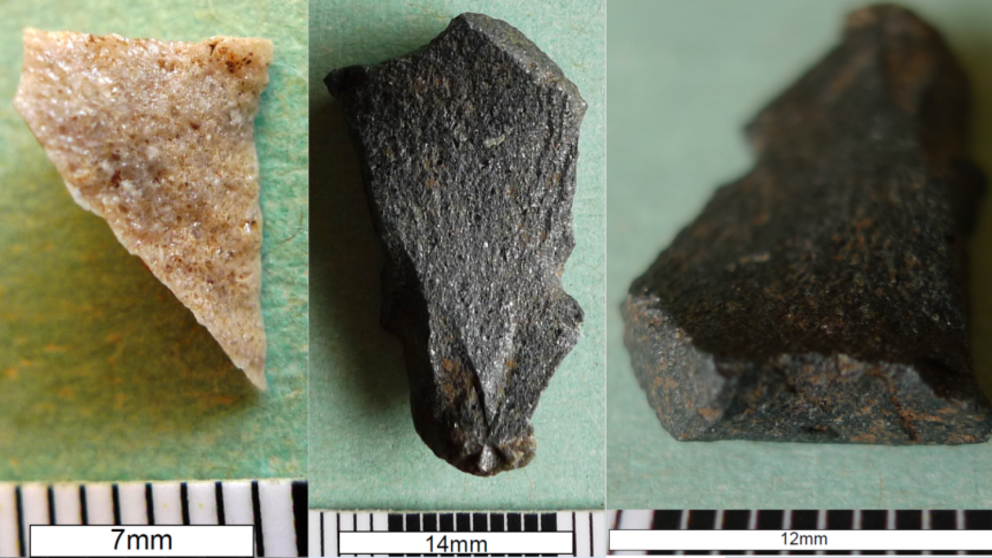 Small stone tool artefacts discovered at the Griffith Hospital redevelopment site are thought to be thousands of years old.(Supplied: Murrumbidgee Local Health District)
The artefacts were found at the site of the $250 million redevelopment with investigations uncovering 271 small stone tools used for cutting and scraping.
Archaeologist Jillian Comber said, while it was believed many of the artefacts had been brought to the site in loads of gravel in previous years, the find also contained artefacts that had been there for thousands of years, suggesting a camp at the site.
"It's exceptionally significant and very rare," she said.
"There has not been a great deal of archaeological work undertaken in the Griffith area.
"These tools were used for cutting and scraping food, cutting up plant matter or scraping timber for wood working.
She said they might also have been used for making shields and canoes, or "coolamons" — a vessel for carrying water or food.
The stone tools, known as bipolar flakes, are believed to be at least 2,000 years old.
'Understanding of Aboriginal occupation'
In a joint statement with the local health district, the Griffith Local Aboriginal Land Council said it would submit an application to the National Parks and Wildlife Service to be the repository for the artefacts and to decide how and where they would be kept.
"This is a very important discovery for the Aboriginal community and the history of Griffith," the statement said.
"The artefacts contribute to an understanding of Aboriginal occupation of the region and the nature of Aboriginal tool making.
"Few artefact finds have previously been described in detail in the Griffith area and this is largely due to the few archaeological investigations undertaken."
Ms Comber has recommended the artefacts be used for education purposes but said it will be up to the Griffith Aboriginal Land Council to decide as they belong to the Aboriginal community.
She said the land council had been involved throughout the process and had given approval for the excavation of the artefacts.
"We are actually helping our history by excavating," she said.
Murrumbidgee Local Health District said more excavation work would be carried out at the site to remove any other artefacts before the redevelopment continued.