GO BLUE: National Association Of Police Organizations Endorse Trump For President, Ditching Joe Biden And The Democrats In Stunning Fashion
---
Source: By. 3cCorpt.net |
The National Association of Police Organizations (NAPO) endorsed President Donald Trump for president on Wednesday, abandoning their previous support of Joe Biden.
The Trump campaign welcomed the news in a statement: "Joe Biden has done nothing to stop his party's 'defund the police' movement and remains silent as police officers across the country are being attacked by violent rioters and protesters," Trump 2020 Senior Advisor for Law Enforcement and Labor Unions Bob Paduchik said in a statement. "This endorsement for President Trump highlights that as the Law and Order President, he is defending the hardworking people who risk their own lives every day to keep our communities safe."
All you will hear from the Liberal fake media is how Joe Biden is skyrocketing in the polls, and how far behind Donald Trump is falling behind him. You need to take all that with a grain a salt from the same shaker you used back in 2016 when they told you that Hillary Clinton had a 99.5% chance to beat Trump. It wasn't true then and it is not true now.
Right now in America, the Democrats are driving an anti-police narrative that has already produced dead cops, cop cars set on fire, and a massive disrespect for law enforcement officers. Not one Democrat in Congress spoke up against the 'Defund The Police' movement, and many of them actually endorsed it. That is a no-win position that is already paying big dividends for Donald Trump and his campaign as the National Association of Police Organizations just enthusiastically endorsed Trump. Go blue!
The closer we get to November, the weaker the Democrats will get, and that is why you can expect the race riots to continue.
National Association of Police Organizations Ditches Joe Biden, Endorses Trump for President
FROM BREITBART NEWS: "Our endorsement recognizes your steadfast and very public support for our men and woman on the front lines, especially during this time of unfair and inaccurate opprobrium being directed at our members by so many," the letter from NAPO President Michael McHale read.
NAPO previously endorsed the Obama-Biden presidential ticket in both 2008 and 2012 and did not endorse a candidate in 2016. The organization represents more than 1,000 police associations and 241,000 sworn officers.
---
NAPO has endorsed President Trump in his reelection campaign. Here is our endorsement letter which was issued following today's meeting.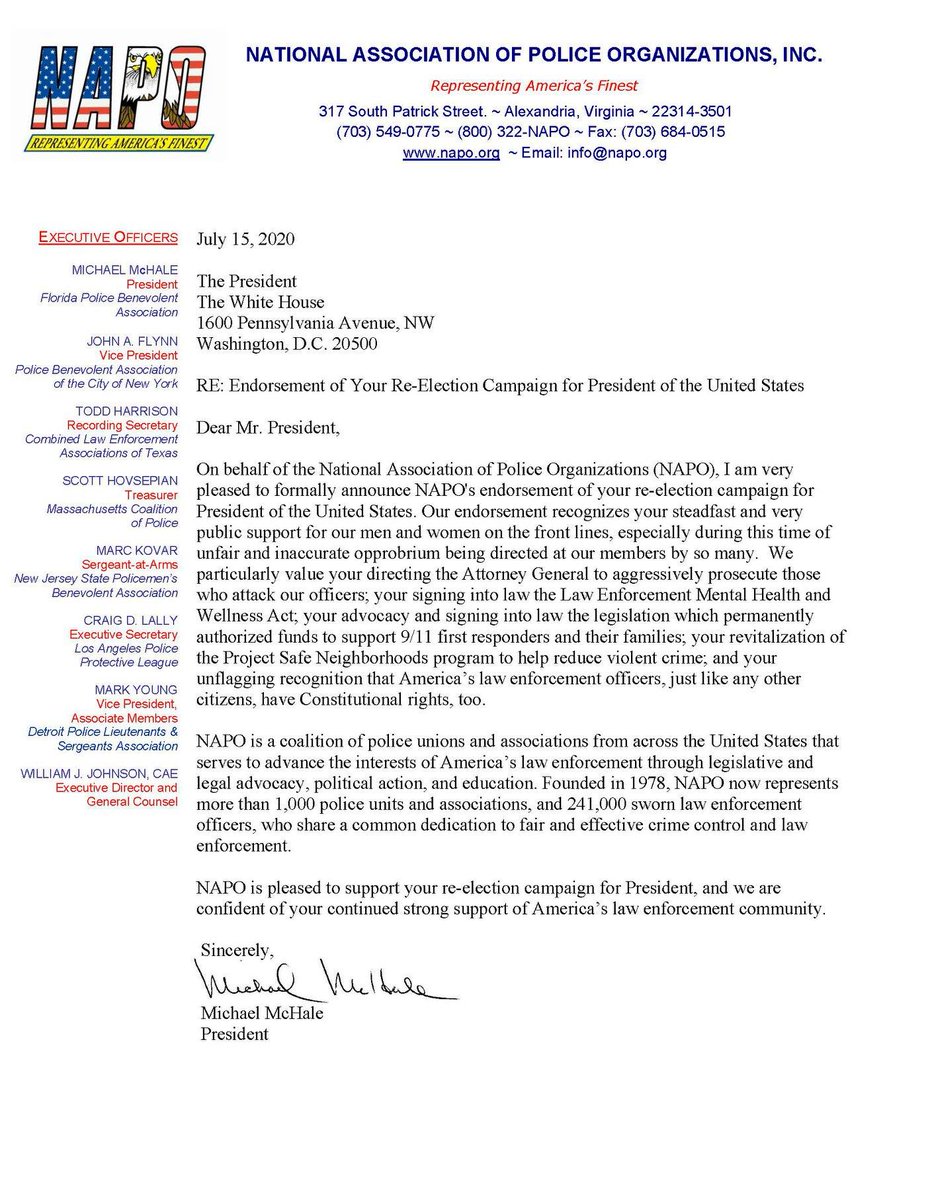 The letter(ABOVE) cited the Justice Department under Trump for prosecuting individuals attacking police officers, signing the Law Enforcement Mental Health and Wellness Act, and support for the 9/11 first responders fund as more reasons for their support.
The Trump campaign welcomed the news in a statement:
"Joe Biden has done nothing to stop his party's 'defund the police' movement and remains silent as police officers across the country are being attacked by violent rioters and protesters," Trump 2020 Senior Advisor for Law Enforcement and Labor Unions Bob Paduchik said in a statement. "This endorsement for President Trump highlights that as the Law and Order President, he is defending the hardworking people who risk their own lives every day to keep our communities safe." READ MORE
Source: GO BLUE: National Association Of Police Organizations Endorse Trump For President, Ditching Joe Biden And The Democrats In Stunning Fashion • Now The End Begins