---
Source: The Truthers Journal | July 11, 2020
VACCINES CAUSED 1918 "SPANISH FLU" WHICH KILLED MILLIONS
US Vaccines Caused 'Spanish Flu'
"It was a common expression during the war that "more soldiers were killed by vaccine shots than by shots from enemy guns."–E. McBean
"The 1918 'Spanish Flu' started in American military Camp Funston, Fort Riley, USA, amongst troops making ready for W.W.I – taking on board vaccinations, recruit training and all. It eventually killed about 40,000,000 people worldwide. That flu strain only appeared briefly once again, according to the US Atlanta CDC. This was in 1976 and again it struck at the US army camp Fort Dix, USA, amongst recently vaccinated troops (and no one else EVER); Fort Dix is known to have been a vaccine trial centre. Was the world's greatest 'influenza' scourge another well-hidden vaccine disaster?"—John P Heptonstall
In 1918, the US Army forced the vaccination of 3,285,376 natives in the Philippines when no epidemic was brewing, only the sporadic cases of the usual mild nature. Of the vaccinated persons, 47,369 came down with small-pox, and of these 16,477 died. In 1919 the experiment was doubled. 7,670,252 natives were vaccinated. Of these 65,180 victims came down with small-pox, and 44,408 died. In the first experiment, one-third died, and in the second, two-thirds of the infected ones died.
—– from Dr. William Koch's book, The Survival Factor in Neoplastic and Viral Diseases.
"Dean W.A. Pearson of Philadelphia (Hahnemann College) collected 26,795 cases of (191 influenza treated by homeopathic physicians with a mortality rate of 1.05 percent while the average old school (traditional medicine/drugs) mortality was 30 percent."
"The Journal of the American Institute for Homeopathy, May, 1921, had a long article about the use of homeopathy in the flu epidemic. Dr. T A McCann, from Dayton, Ohio reported that 24,000 cases of flu treated allopathically had a mortality rate of 28.2% while 26,000 cases of flu treated homeopathically had a mortality rate of 1.05%. This last figure was supported by Dean W.A. Pearson of Philadelphia (Hahnemann College) who collected 26,795 cases of flu treated with homeopathy with the above result….. Dr. Herbert A. Roberts from Derby, CT, said that 30 physicians in Connecticut responded to his request for data. They reported 6,602 cases with 55 deaths, which is less than 1%. Dr. Roberts was working as a physician on a troop ship during WWI. He had 81 cases of flu on the way over to Europe. He reported, "All recovered and were landed. Every man received homeopathic treatment. One ship lost 31 on the way."—Julian Winston
http://www.rense.com/general45/USvaccinescaused.htm" target="_blank">SOURCE
RELATED:
– THE SPANISH INFLUENZA EPIDEMIC OF 1918 WAS CAUSED BY VACCINATIONS
http://www.whale.to/vaccine/spanishflu.html
– Irish Examiner Archives
http://archives.tcm.ie/irishexaminer/
– Vaccine not virus responsible for Spanish flu
http://archives.tcm.ie/irishexaminer/2003/05/08/story265526733.asp
– The 1918 Influenza Epidemic was a Vaccine-caused Disease
The 1918 Influenza Epidemic was a Vaccine-caused Disease
– Was Spanish Flu (1918) Deliberate Genocide?
https://www.henrymakow.com/001836.html
– US Vaccines Caused 'Spanish Flu' – More Information
http://www.rense.com/general45/USvaccinescaused.htm
– There was no 1918 Spanish flu – 50-100 million people were exterminated by vaccines and aspirin
http://exopolitics.blogs.com/ebolagate/2014/10/there-was-no-1918-spanish-flu-50-100-million-people-were-exterminated-by-vaccines-and-aspirin.html
– The Spanish Flu Epidemic of 1918 Was Caused By Vaccinations
http://paraven.net/the-spanish-flu-epidemic-of-1918-was-caused-by-vaccinations
– Tending Nurse Claimed Spanish Influenza Outbreak of 1918 Caused by Vaccinations
http://educate-yourself.org/cn/spanishfluvaccineconnection09dec06.shtml
– SPANISH FLU OF 1918 WAS CAUSED BY VACCINATIONS
SPANISH FLU OF 1918 WAS CAUSED BY VACCINATIONS
Source: By Kevin Barry, President | First Freedoms, Inc. | November 7, 2018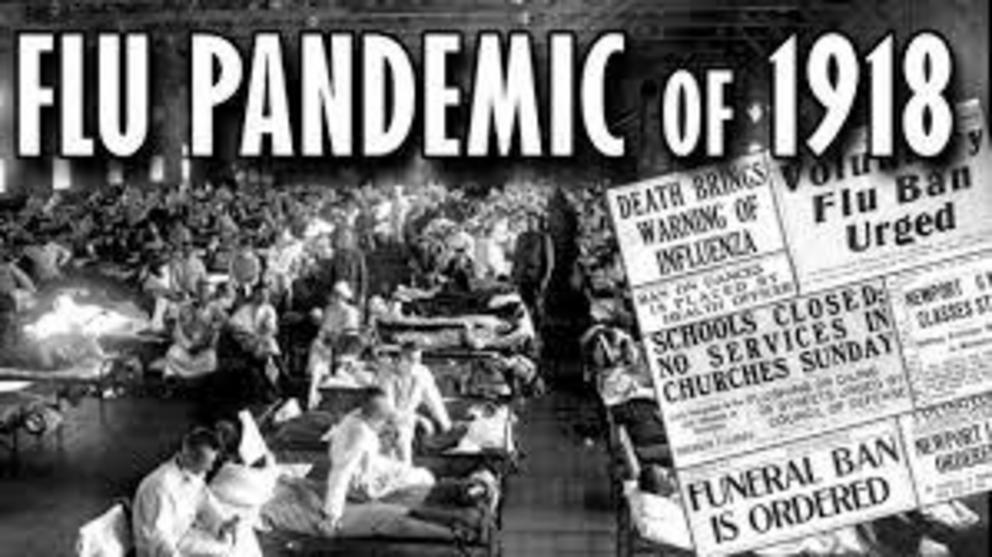 Did a vaccine experiment on US soliders cause "the Spanish flu" epidemic?
By Kevin Barry, President | November 7, 2018
First in a series
The "Spanish Flu" killed an estimated 50-100 million people during a pandemic 1918-19. What if the story we have been told about this pandemic isn't true? What if, instead, the killer infection was neither the flu nor Spanish in origin? Newly analyzed documents reveal that the "Spanish Flu" may have been a military vaccine experiment gone awry. In looking back on the 100th anniversary of the end of World War I, we need to delve deeper to solve this mystery.
Summary
The reason modern technology has not been able to pinpoint the killer influenza strain from this pandemic is because influenza was not the killer.
More soldiers died during WWI from disease than from bullets.
The pandemic was not flu. An estimated 95% (or higher) of the deaths were caused by bacterial pneumonia, not influenza/a virus.
The pandemic was not Spanish.The first cases of bacterial pneumonia in 1918 trace back to a military base in Fort Riley, Kansas.
From January 21 – June 4, 1918, an experimental bacterial meningitis vaccine cultured in horses by the Rockefeller Institute for Medical Research in New York was injected into soldiers at Fort Riley.
During the remainder of 1918 as those soldiers – often living and traveling under poor sanitary conditions – were sent to Europe to fight, they spread bacteria at every stop between Kansas and the frontline trenches in France.
One study describes soldiers "with active infections (who) were aerosolizing the bacteria that colonized their noses and throats, while others—often, in the same "breathing spaces"—were profoundly susceptible to invasion of and rapid spread through their lungs by their own or others' colonizing bacteria." (1)
The "Spanish Flu" attacked healthy people in their prime. Bacterial pneumonia attacks people in their prime. Flu attacks the young, old and immunocompromised.
When WW1 ended on November 11, 1918, soldiers returned to their home countries and colonial outposts, spreading the killer bacterial pneumonia worldwide.
During WW1, the Rockefeller Institute also sent the antimeningococcic serum to England, France, Belgium, Italy and other countries, helping spread the epidemic worldwide.
During the pandemic of 1918-19, the so-called "Spanish Flu" killed 50-100 million people, including many soldiers. Many people do not realize that disease killed far more soldiers on all sides than machine guns or mustard gas or anything else typically associated with WWI.
I have a personal connection to the Spanish Flu. Among those killed by disease in 1918-19 are members of both of my parents' families. On my father's side, his grandmother Sadie Hoyt died from pneumonia in 1918. Sadie was a Chief Yeoman in the Navy. Her death left my grandmother Rosemary and her sister Anita to be raised by their aunt. Sadie's sister Marian also joined the Navy. She died from "the influenza" in 1919. On my mother's side, two of her father's sisters died in childhood. All of the family members who died lived in New York City. I suspect many American families, and many families worldwide, were impacted in similar ways by the mysterious Spanish Flu.
In 1918, "influenza" or flu was a catchall term for disease of unknown origin. It didn't carry the specific meaning it does today. It meant some mystery disease which dropped out of the sky. In fact, influenza is from the Medieval Latin "influential" in an astrological sense, meaning a visitation under the influence of the stars.
WHY IS WHAT HAPPENED 100 YEARS AGO IMPORTANT NOW?
Between 1900-1920, there were enormous efforts underway in the industrialized world to build a better society. I will use New York as an example to discuss three major changes to society which occured in NY during that time and their impact on mortality from infectious diseases.
1. Clean Water and Sanitation
In the late 19th century through the early 20th century, New York built an extraordinary system to bring clean water to the city from the Catskills, a system still in use today. New York City also built over 6000 miles of sewer to take away and treat waste, which protects the drinking water. The World Health Organization acknowledges the importance of clean water and sanitation in combating infectious diseases. (2)
2. Electricity
In the late 19th century through the early 20th century, New York built a power grid and wired the city so power was available in every home. Electricity allows for refrigeration. Refrigeration is an unsung hero as a public health benefit. When food is refrigerated from farm to table, the public is protected from potential infectious diseases. Cheap renewable energy is important for many reasons, including combating infectious diseases.
3. Pharmaceutical
In the late 19th century through the early 20th century, New York became the home of the Rockefeller Institute for Medical Research (now Rockefeller University). The Institute is where the modern pharmaceutical industry was born. The Institute pioneered many of the approaches the pharmaceutical industry uses today, including the preparation of vaccine serums, for better or worse. The vaccine used in the Fort Riley experiment on soldiers was made in horses.
US Mortality Rates data from the turn of the 20th century to 1965 clearly indicates that clean water, flushing toilets, effective sewer systems and refrigerated foods all combined to effectively reduce mortality from infectious diseases BEFORE vaccines for those diseases became available.
Have doctors and the pharmaceutical manufacturers taken credit for reducing mortality from infectious disease which rightfully belongs to sandhogs, plumbers, electricians and engineers?
If hubris at the Rockefeller Institute in 1918 led to a pandemic disease which killed millions of people, what lessons can we learn and apply to 2018?
THE DISEASE WAS NOT SPANISH
While watching an episode of American Experience on PBS a few months ago, I was surprised to hear that the first cases of "Spanish Flu" occurred at Fort Riley, Kansas in 1918. I thought, how is it possible this historically important event could be so badly misnamed 100 years ago and never corrected?
Why "Spanish"? Spain was one of a few countries not involved in World War I. Most of the countries involved in the war censored their press. Free from censorship concerns, the earliest press reports of people dying from disease in large numbers came from Spain. The warring countries did not want to additionally frighten the troops, so they were content to scapegoat Spain. Soldiers on all sides would be asked to cross no man's land into machine gun fire, which was frightening enough without knowing that the trenches were a disease breeding ground. Read more at First Freedoms.
There was no 1918 Spanish flu – 50-100 million people were exterminated by vaccines and aspirin
Mandated vaccines at the end of the war, forced on soldiers triggered lots of horrible symptoms of all kinds and lots of deaths and it was all blamed on a mysterious flu.
Vaccines and aspirin together didn't combine to make something new. Vaccines set off symptoms and death, everyone was told there was a flu pandemic, doctors and people used aspirin to try to treat whoever was sick (or scared they were sick) and aspirin is immune suppressant and led to pneumonias and death, or to overdosing with aspirin and death (the "well in the morning, dead by evening" aspect of the deaths said to be a horrifying characteristic of the mysterious virus).
Some background on the vaccines as well as a look at what Bush did to put the lie of the "1918 pandemic" into consciousness as he set up the whole unconstitutional, non-medical, financially plundering, military pandemic structure now in place. This was the moment it all began.


Saying goodbye to fear of the 1918 flu
And as for aspirin, the first 5 articles about Bayer are about aspirin and pandemics and are relevant right now. The 3rd and 5th are about CDC lies and the Bush's pandemic laws and the danger from them.
The last 5 articles show the history of Bayer and the broad areas of murder Bayer is involved in.
Part 1:. 1918 and Aspirin
http://foodfreedom.wordpress.com/2011/07/09/bayer-and-death-1918-and-aspirin/
[Addendum: Monsanto was involved in the 1918 deaths. 1917: Bayer, The German competition cut prices in an effort to drive Monsanto out of business, but failed. Soon, Monsanto diversified into phenol (a World War I-era antiseptic), and aspirin when Bayer's German patent expired in 1917. Monsanto began making aspirin, and soon became the largest manufacturer world-wide.]
Part 2:. Aspirin Killed, Homeopathy Saved
http://foodfreedom.wordpress.com/2011/07/10/aspirin-killed-homeopathy-saved/
Part 3:. Vaccines and CDC's Myth of a 1918 Virus
http://foodfreedom.wordpress.com/2011/07/11/vaccines-and-cdc%E2%80%99s-myth-of-a-1918-virus/
Part 4:. Aspirin Deaths Continue Beyond 1918
http://foodfreedom.wordpress.com/2011/07/11/aspirin-deaths-continue-beyond-1918/
Part 5:. A New Set of Questions about 1918 and Bush's Pandemic laws
http://foodfreedom.wordpress.com/2011/07/11/a-new-set-of-questions-about-1918/


Part 6: Bayer and WWII
http://www4.dr-rath-foundation.org/PHARMACEUTICAL_BUSINESS/history_of_the_pharmaceutical_industry.htm
Part 7: Bayer Inherits Nazi funds
http://www.rawfoodinfo.com/articles/art_poisonforprofit.html

Part 8: Bayer and Bees
http://www.forbes.com/sites/markgibbs/2012/04/26/bayer-pesticide-profits-or-bees/
Part 9: Bayer and Monsanto
http://bestmeal.info/monsanto/company-history.shtml
Part 10: Bayer and Terrorism
http://www.rawfoodinfo.com/articles/art_pharmaterror.htmlThere was no 1918 Spanish flu – 50-100 million people were exterminated by vaccines and aspirinhttp://exopolitics.blogs.com/ebolagate/2014/10/there-was-no-1918-spanish-flu-50-100-million-people-were-exterminated-by-vaccines-and-aspirin.html