Jim Fetzer, the man who has been railroaded by corrupt and complicit Connecticut oath-breaking Judges & Khazarian lawyers, is the author of "Nobody Died at Sandy Hook".
DOWNLOAD "Nobody Died at Sandy Hook" by. Jim Fetzer
Sandy Hook, Sandy Hook, Sandy Despicable False Flag Event Hook. That's what got adrenogate.wordpress.com banned. I will make sure to clean up all the dead links and videos on all my Sandy Hook posts today.
Most people refuse to even look at the OVERWHELMING assortment of evidence that proves without a shadow of a doubt that the Sandy Hook Massacre was a outright despicable false flag event. The Department of Homeland security made a sloppy and brazen spectacle out of the whole event, knowing that the subject matter, along with a complicit mainstream media, would allow them to get away with just about anything. No matter how badly they ended up actually executing the damn thing.
I don't even know what to say anymore. If you haven't seen the evidence and are still disparaging those of us who assert it was a false flag, then you are just animal and represent EXACTLY what is wrong with our society. Who does that? Refuses to even look at something? If you have seen the evidence, and still refuse to even partially concede that there is something very wrong here, then you are either in on it, or a bona-fide clinical retard.
You can download & read Jim Fetzers book below. You can find much more on Sandy Hook here as well. I'll never stop trying to expose the Sandy Hook hoax. Its easily the most evidence saturated an despicable of any hoax ever perpetrated in the history of humanity. Certainly the most despicable false flag in American history. The cornerstone of the Globalist portfolio of propaganda drenched public sentiment altering activities. Alas, inevitably, most will be fooled. It sucks and is sad. If you have school age children, it's tough to take a public stand against the Sandy Hook hoax. Your kids will end up being punished for it by deranged parents and teachers, despite them having nothing to do with it. I get it. But for those of us who can take a stand, we must. WE MUST. They've proven that they have no intentions of letting up. They are going to pull this kind of crap even more frequently with even more brazen scenarios. The[the Globalist left] want our guns and they want to strip us off every last constitutionally protected freedom that we have left.
WE NEED TO TALK ABOUT SANDY HOOK FULL LENGTH DOCUMENTARY & MORE
Jim Fetzer, Author of 'Nobody Died at Sandy Hook', Denied Jury Trial and Ordered to Pay Sandy Hook Victim's Father $450,000
October 18, 2019 Kevin Barrett and The Wrap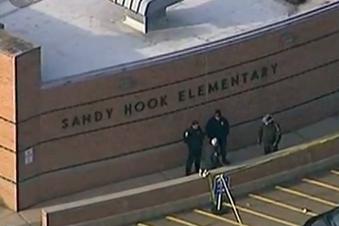 Jim Fetzer is a former philosophy professor from the University of Minnesota Duluth and the author of Nobody Died at Sandy Hook, a book that explains why he believes the reported shooting at the Sandy Hook Elementary School was a hoax. He was sued by Lenny Pozner, father of six-year old Noah Pozner, who was reportedly shot to death on December 14, 2012. Lenny Pozner claimed Fetzer's writing caused him to suffer from PTSD. A jury in Dane County, Wisconsin ordered Fetzer to pay $450,000 in damages to Pozner for defamation, based on accusations that Noah Pozner's death certificate was fake. Dane County Circuit Judge Frank Remington denied Fetzer's request for a jury trial and issued a summary judgement that Pozner, indeed, had been defamed. A jury was allowed to assemble for the part of the trial dealing with the penalty, but the judge prevented the jury from hearing Fetzer's evidence that Noah's death certificate was fake. -GEG
Madison, WI
Jim Fetzer's defense against Lenny Pozner's defamation suit got interesting today, day two of the penalty phase of the trial. (Disclaimer: I have been friends with Jim since 2006, and though I don't always agree with him, I respect his courage and sincerity. It was an honor to have lunch with him on this, the critical day of the penalty phase of his trial.)
Pozner won the first phase last June when the court determined that four of Fetzer's statements alleging a fake death certificate for Noah Pozner were defamatory; then on September 13 Fetzer was found in contempt of court for sharing images of Pozner's deposition. Fetzer argues that he shared the images, which the court had deemed confidential, as part of his legal defense research. Fetzer claims the images show that the Lenny Pozner in the deposition is not the same person depicted in at least some previous publicly circulated images of Lenny Pozner.
Pozner is asking for one million dollars in damages from Fetzer. The jury's job is to determine an award amount, which theoretically could range anywhere between zero and one million dollars.
The penalty phase of the trial began Monday with opening arguments and a lengthy videotaped deposition of a forensic psychologist, who asserts that Pozner suffers from PTSD as a result of Fetzer's four defamatory statements. The forensic psychologist, who was presumably hired by Pozner's legal team, predictably supported Pozner's narrative: After suffering the loss of his son Noah at Sandy Hook, Pozner says, he experienced PTSD for more than a year, only to have his recovery cut short, and his symptoms exacerbated, by his discovery that online Sandy Hook skeptics were claiming that the school shooting was a hoax in which nobody died. Since then, Pozner says, he has been waging an online battle against Sandy Hook skeptics (he calls them "hoaxers") which has kept him mired in PTSD. Much or most of the suffering he has experienced, Pozner suggests, is the fault of Jim Fetzer, whom Pozner and his lawyers are casting as the kingpin and prime inspiration of the Sandy Hook skeptics' movement.
Fetzer's legal team questioned the "Fetzer caused my PTSD" claim. While acknowledging that Pozner would have suffered PTSD from the loss of his son in December 2012, they suggested that it was not entirely Fetzer's fault that Pozner has been re-traumatizing himself by spending much of his time since 2014 combing the internet for material that he says traumatizes him and trying to get it removed. Fetzer's team's cross-examination of the psychologist pointed out that normally PTSD sufferers avoid stimuli that reawaken the trauma.
Read full article here…
From The Wrap:
The award of damages comes four months after Dane County Circuit Judge Frank Remington issued a summary judgement that Fetzer and co-author Mike Palecek had defamed Pozner by falsely claiming that the death certificate for Pozner's son, Noah, had been faked.
From Rational Wiki:
Fetzer was sued in Wisconsin for defamation and libel by Leonard Pozner, a father of a child who died in the Sandy Hook massacre, primarily for his book, Nobody Died At Sandy Hook: It was a FEMA Drill to Promote Gun Control.[6][7] Fetzer represented himself pro se in the case because he stated it was impossible to find a lawyer to represent him. "Nobody wants to touch" their case, Fetzer said.[8] Fetzer actually argued in Court that the original reasons he called the death certificate a fake were untrue, but then went on to claim that because many variations of the death certificate had been released (including with and without an embossed seal, with handwritten numbers at the top, or with a redaction of the social security number) that the certificates were fabricated. Handwritten differences and variations in the seal on the death certificate was apparently sufficient evidence for Fetzer to claim that Noah Pozner didn't exist. The judge in the case said there was no question of fact in dispute, and granted summary judgment against Fetzer in favor of Mr. Pozner in the libel case on the issue of liability, allowing it to proceed to a jury to consider damages. The case is currently pending a jury trial on the issue of damages only.
https://rationalwiki.org/wiki/James_H._Fetzer
Additional sources:
https://madison.com/wsj/news/local/crime-and-courts/jury-awards-sandy-hook-father-for-defamation-by-local-conspiracy/article_cdc741bf-4186-5ff3-af0c-e38be9f26592.html
Kevin Barrett, The Legal Lynching of a Truth-Seeker: Jim Fetzer's Stalinist-Style Show Trial