You see how the intelligence community works? They create this impossibly long custodial history of the "information" that they gather so that it becomes virtually impossible to sift through their multi-layered menagerie of lies that's been passed from agent to agent to snitch to shill to spy to idiot to diplomat and then back around again before landing on the desk of some FISA judge who is forced to rely on the word of the operative who's presenting it to them. This ultra-sketchy practice should lead all of us to question just how "intelligent" most of the information accrued by our intelligence community actually is. I think a simple audit of the activities of almost all global intel operations would reveal that most of their "intel" is actually a pure fabrication that's been concocted for the sole purpose of inflicting damage upon the political foes of whoever happens to be in charge of the executive branch of their respective Government at the time. In Trumps case, this malfeasance spilled over from the Obama administration and was still taking place during Trumps first few years until he was able to fire everyone he needed to. And that's just the intelligence agencies that we have on the books. That's not even taking into account the countless clandestine agencies who receive their funding from the same place as their "officialized" colleagues, but answer to NO ONE. Those are the real scary ones.
Most people are under the assumption that Christopher Steele was the one that made up all these salacious and untrue rumors about president Trump. But in reality it was some dude Igor Danchenko who was making up those stories, who then fed his lies to this Olga Galkina character, who then fed the information to Christopher Steele(the British Intelligence operative who was actively being paid by the Clinton team to produce the now famous dossier). What a shit-show. A "Satanic Shit Show" as "Lilith avatar" and YouTube child rescue con-artist Lauren Pritchard would say.
Source: https://www.mk.ru/amp/politics/2020/11/02/figurantka-skandalnogo-dose-na-trampa-olga-galkina-raskryla-vse-obstoyatelstva.html
'The 'figure' of a scandalous Trump dossier Olga Galkina reveals all the circumstances
By: LIGHT PARROSA
"The company was completely made up by Igor Danchenko"
Americans, through the Wall Street Journal, accused the Russian woman, a Perm native, of PR artist Olga Galkin of putting information through an intermediary to British Christopher for a compromising dossier on US President Donald Trump. Details of the dossier, which referred to Trump's "orgies" in Moscow, saw the light in 2017. Olga Galkina has set out her version to us. She claims that her classmate Igor Danchenko was completely made up of "dirt."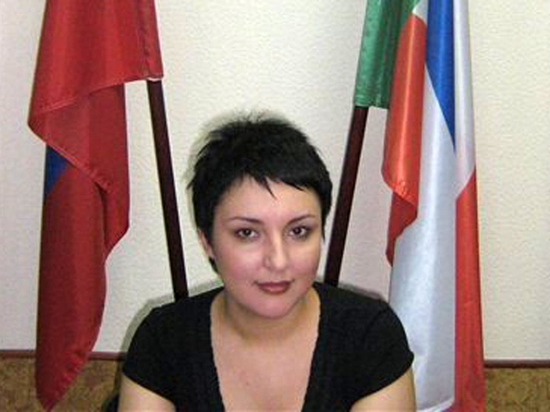 From the MK dossier: "Olga Galkina has a gratitude for the best coverage of the activities of the Russian State Duma in 2004, led the PR service of Rostkhndazor, was the vice mayor of Saratov, now engaged in project activities for the Olympic Committee of the Russian Federation and the Government of Moscow."
Olya, remember what was Trump's compromising dossier and why was he talked about now?
Christopher Steele's report was commissioned by the U.S. Democratic National Committee to discredit Trump by declaring him a "Russian agent." The Democratic Party, in an effort to win last year's 2016 presidential election, has been fanning a scandal about Trump's alleged collusion with Russia and its interference in the election. The scandal began with a leaked dossier to the press, which was prepared by former British foreign intelligence officer Christopher Steele. (Details – in the material "Trump's Sex Orgeries and Kremlin hackers"
Now there are a new U.S. presidential election, so U.S. media critical of Trump are trying to heat up the protracted dish. The Wall Street Journal's publication is dedicated to revealing one of Steele's "Russian sources" dossier, which your subdued servant has been announced. The 1046s; "The urnalists are just chasing another dug sensation on the eve of the election. Noting that the WSJ is clearly not a pro-Trump media, as is most American media. By the way, Republicans don't avoid similar tactics either, inflating the corruption ties of Joe Biden and his son Hunter with Ukraine, China and, of course, Russia (Biden Jr. allegedly received multi-billion-dollar bribes from Elena Baturina, the wife of Yuri Luzhkov).
The Wall Street Journal mentions a man named Igor Danchenko as an intermediary between you and Christopher Steele. Who is he?
We've known to Igor Danchenko from school. In the middle of the zero, he moved to the US. We met an episodic among common acquaintances, at companies in cafes, restaurants during his arrival in Moscow. We have not supported any business or friendly contact.
From November 2015 to November 2016, I worked in Cyprus as head of the press service of Servers. com/ In 2016, my employer intended to implement a number of business projects on U.S. soil. He set me the task of finding a reliable PR contractor in this country. Knowing that Igor was spinning in this area, I asked him to recommend an organization. He presented me with a experienced PR specialist Charles Dolan. It later emerged that he was a longtime Democratic Party supporter (worked with Democrats during several campaign campaigns). Dolan has come to Cyprus several times, met my employer. As far as I know, his company has been signed. Igor's services for consulting and help in finding the contractor have been paid for.
I am not known as I left the company in mid-2016. I've started a long, exhausting trial with my ex-husband. I suppose Christopher Steele has directed most of the work to Igor Danchenko, and that huge layer of information is likely to have just made up. For plausibility, he pointed out as sources of his acquaintances from Russia who have publicity and are recognized experts from their field, in particular me. I think Danchenko himself has no direct to the news. It's just that Trump's detractors needed to get Steele's protracted dossier for another election. I suppose Danchenko cooperated with Steele privately and he was clearly not going to "pack" his information in the form of an article or a public statement. I stumbled across this surprise in a news feed that I'm spelling through a professional habit.
What does Danchenko himself say about the whole story? If he and Christopher Steele have actually allowed a conversation on you, have a penalty for them?
According to Danchenko's testimony, I am a source of compromise not on President Trump, but on Alexei Gubarev. That's my former employer who owns the company of of of the company " "Petrovers. com." It provides hosting services. Neither Alexei Gubarev is personally nor his staff are computer security professionals. They don't have the qualifications for computer hacks. The whole story about the involvement of Gubarev and his team in the hacking of the Democratic Party's servers is made up from start to finish.
It seems that Gubarev was a victim of slander simply because he works in the IT industry. By this logic, any Russian who has been sitting at a computer is a "diabolic Russian hacker." The dirt is completely made up by Igor Danchenko. And mentioning my name as an alleged source of compromise on Trump is a pure "the art of the headline."
It's hard to say how the former British intelligence representative who has effectively launched a global fake into the world's information space will be punished. Danchenko, who was used as an expert, should also be punished by a British scout. The story's unraveling will not play in favor of the U.S. Democratic Party, which has used a dubious source of information in the interests of the moment political environment. For my part, I do not rule out lawsuits against citizens (both in Russian court and in American) who have tried to use my name in this situation and to smear it.
The WSJ's interviewees said you were fired from the company of of of the company " "of" 88;BT Holding because of the late-term intoxicated.
I wasn't fired, I wrote my own resignation statements because I was created unbearable conditions for work. There's a lot of gossip about me my husband because he couldn't get the child to him.
What was the benefit of Igor Danchenko? Did he get a reward?
It's a good thing that Danchenko's remuneration is asked in the public field. After the U.S. election, there is a chance that there will be an investigation into and we will get an opportunity to learn about the prices. At the same time, the truth will be opened about the benefit of Christopher Steele.
You've been in contact with him?
I've never been in any form with Christopher Steele and I know about him only what's written in open. According to Wikipedia, he is a former member of British foreign intelligence at MI-6 who worked in the "Russian" direction in the zero years. Then Steele resigned and began to engage in a private security business. Before last year's U.S. presidential election, he, commissioned by the U.S. National Committee, compiled a dossier about candidate Trump's alleged ties to Russia. The main source of "information" for Steele was my former classmate Igor Danchenko.
The dossier customers appeared to be questioned as it, so they chose the plums to the "yellow" internet edition BuzzFeed. But there are no former scouts, so it's not about Russian, it's about British interference in the American election. Already as president, Trump has been quite abruptly denied the information from the dossier, and the head of American National Intelligence, James Clapper, questioned. Mr Steele himself then, after the public scandal, hurriedly left his mansion in Surrey County, throwing a hungry cat at the mercy of a neighbor. The behaviour of a professional? I'm wondering.
Why don't you give an interview to foreign publications?
First of all, because my work doesn't involve communicating with the foreign media. And second, I don't trust their objectivity.
You've talked about a difficult divorce from your husband.
Yes, in mid-2016, just at the time when this dirty political game was apparently going on, I was doing domestic affairs. At the trial, I charged my husband with unlawful intrusion into my home and family violence. He wanted to take my baby away. It wasn't until 2018 that I was a full victory in a Cypriot court and a statement of all my ex-husband's testimony is false.
It's understandable that I wasn't until the politics, not before the U.S. election, their outcome. It is also clear that in this situation I could not be the source of the information that was being referred to in Steele's "dossier" and Igor's interview. I didn't leave the island, I didn't talk to anyone other than the court and law enforcement agencies of Cyprus. In general, by the nature of my activities, I did not come into contact with the information related to the "file" and was not involved in its development and editing.