Very odd story. Known cointelpro shill Robert David Steele has been around the truther community for a while now. Although I believe that much of his content was intentional disinformation(rather than just overly opinionated misinformation out of a troubling loyalty to the orange man at all costs) I still found some of his work to be useful and even incorporated the RSS feed of one of his blogs onto my homepage.
But this story has "staged" and "ritual" written all over it. Like literally. The only thing more annoying than watching the EL-ites carry-out an occult ritual sacrifice is watching the EL-ites carry-out what you know is a staged occult ritual sacrifice.
Source: Gematria Effect News
Former CIA officer and InfoWars collaborator, Robert David Steele, death news on Alex Jones 201st day of his age, from Covid-19, August 30, 2021



Of course it was a former CIA member that was part of Q'Anon, a Jesuit, federal government backed, psy-op.
Central Intelligence Agency – United States of America = 201
Q'Anon = 201
*The Jesuit Order = 201
And let us not forget that Event 201 was the coronavirus pandemic simulation, one month before the outbreak.
Furthmore, this man was known through Alex Jones, and he died on Alex Jones' 201st day of his age.




Read more about the Jesuits and 201 here.
Read more about the CIA and 201 here.
And don't overlook that the CIA was established in '47, and Alex Jones is 47-years-old right now.

Of course, Alex Jones broadcasts out of Jesuit town, Austin, Texas.


World War = 42
War = 42
*Jesuit = 42
*Freemason = 42
*Masonry = 105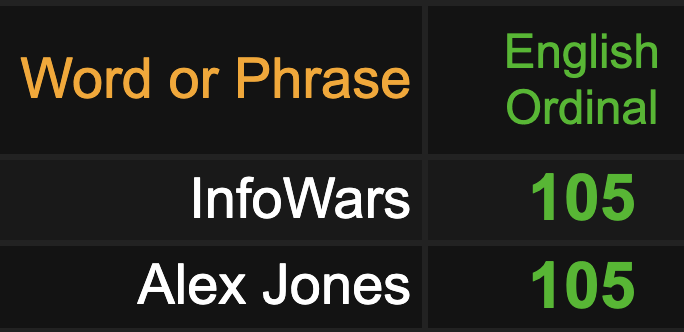 https://www.nydailynews.com/news/national/ny-hoax-covid-19-denier-cia-anti-vax-20210831-leumibd7tfhnferzxn3jm3so7m-story.html
With regards to 'conspiracy' being the word, he died August 30, the day leaving 123 days in the year.
Conspiracy = 123


Furthermore, that date can be expressed as 8/30, and 8+30 = 38.
Death = 38
Pandemic = 38
*Murder = 38
*Killing = 38
*RIP = 38
For one last point, Steele died on his 46th day of his age, 69. *The Jesuit Order = 69 *Catholic = 46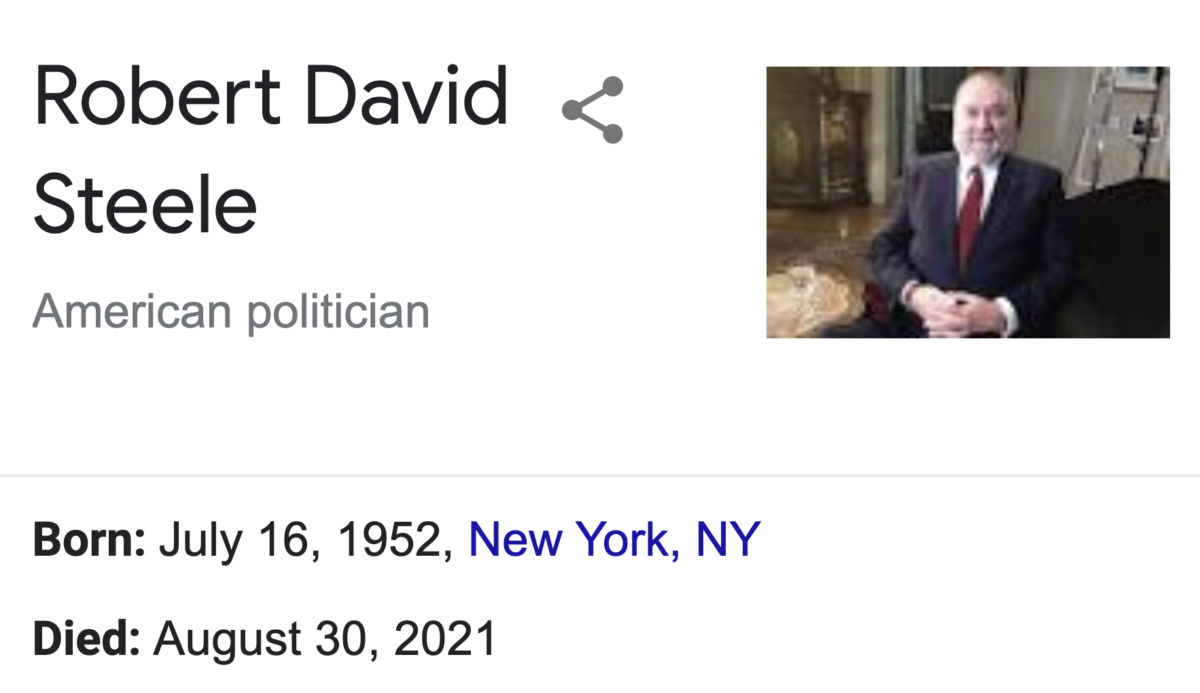 Virus = 46
Sacrifice = 46
*Genesis 46
Alex Jones is on the Genesis Radio Network.Sep 2 at 8:28 am