These Perkins Coie rats are going down which is nice to see. The streets get cleaned up slightly if your able to cripple a corrupt DemonRat law firm like this one. If this is ALL that comes from the Durham investigation that would be pretty infuriating.
Source: https://nworeport.me/2021/09/21/whistleblower-durham-indictment-shows-connection-between-clinton-dnc-top-google-executive/
Whistleblower: Durham indictment shows connection between Clinton, DNC, top Google executive
Date: September 21, 2021 Author: Nwo Report0
Source:
WASHINGTON, DC- Bombshell…blockbuster…call it what you will. The felony indictment made obtained by Special Prosecutor John Durham should blow the lid off the 2016 Russia collusion hoax perpetrated by the Clinton campaign, furthered by corrupt assets within the FBI and now we are learning also had the involvement of big tech, which was always suspected.
National File reports that the indictment alleges that members of the Clinton campaign hatched a scheme which alleged then-candidate Donald Trump and his campaign had been receiving communications from Alfa Bank, a financial institution closely linked to the Kremlin.
Reports last week identified an attorney, Michael Sussmann in the scheme, a significant development in that Sussmann was attached to the Clinton campaign. Sussmann is alleged to have deliberately pushed the hoax to the FBI, media friendly to the FBI, and another federal agency (undisclosed) under false pretenses.
Now, the part of Durham's case that is even more significant…the indictment identifies the so-called "mastermind" of the operation to create and spread the Alfa Bank hoax as an executive with one of the big tech companies in order to create the false Trump-Russia collusion narrative.
According to National File, this person is believed to be a man named Eric Schmidt, former executive chairman of Alphabet, the parent company of…Google.
The Russia collusion hoax was the favorite of anti-Trump zealots for years, breathlessly pushed by people such as MSNBC's Rachel Maddow and congressional Democrats such as Adam Schiff (D-CA).
Those allegations continued even after it was debunked by both the FBI as well as Special Counsel Robert Mueller. In fact, Schiff to this day still rambles on about Russia collusion, like an obsessed schoolboy over the head cheerleader. He is hardly alone.
Durham's indictment says that those who initially wrote the so-called "white paper" which outlined the conspiracy theory knew for a fact it was full of holes, however spread it anyway for the purposes of creating a "narrative" to trigger a federal investigation for the purposes of undermining Trump.
Now the rats are fleeing the Titanic…or more accurately, they're being kicked off. After Durham's indictment went public last week where Sussmann was charged with making false statements to the FBI, his now former law firm—Perkins Coie—issued the following statement:
"In light of the Special Counsel's action today, Michael Sussmann, who has been on leave from the firm, offered his resignation from the firm in order to focus on his legal defense, and the firm accepted it."
Perkins Coie has a rather entangled relationship with Clinton and the Democratic National Committee and was one of the primary law firms last year involved in filing numerous lawsuits in various states in order to circumvent election laws. Not so ironically, an overwhelming majority of those lawsuits were in swing states.
Perkins Coie also played a prominent role in "the fabrication and dissemination of the debunked Steele Dossier," National File reported. That document which has been referred to as the "pee pee hoax" tape alleged that Trump had urinated on Russian prostitutes in a hotel room where the Obama family would end up staying.
The allegation was proven false, and it was later discovered that some assets of the FBI were aware of it, yet still perpetrated the hoax.
Perkins Coie, National File reported, that represented Arizona Senator Mark Kelly (D) in a failed lawsuit, which alleged that National File lied when they claimed Kelly had dressed as Adolf Hitler. Kelly ended up dropping the suit and the outlet stands by its story. The law firm has also argued in an attempt to stop the Arizona election audit.
The Russia collusion hoax was reportedly hatched by a Clinton campaign "confidant," referred to in the Durham indictment as:
"Tech Executive-1," who "claimed to have been previously offered a position in government in the event Hillary Clinton won the presidency," and "exploited access to non-public data at multiple Internet companies to conduct opposition research concerning Trump…
By virtue of his position at Internet Company-1 and other companies, Tech Executive-1 maintained direct or indirect access to, and the ability to provide others access to, large amounts of internet and cybersecurity data," emphasis added by National File.
The Durham indictment specifies "three tech companies which Tech Executive-1 leveraged influence over on behalf of the Clinton campaign."
It reads that:
"Internet Company-1 "offers various Internet-related services and products, including Domain Name System ('DNS') resolution services"; Internet Company-2 "among other things, collected DNS data from various points on the internet"; and Internet Company-3 "received data that had been collected by Internet Company-2 or its parent company, and then used and analyzed that data in order to advise its private sector customers on cybersecurity and business risks."
National File notes that the identity of the executive isn't clear, however Schmidt seems to fit the description. "At the time, he was Executive Chairman of Alphabet, Inc, the parent company of Google and an unofficial advisor to the Clinton campaign, who founded the start-up, The Groundwork to serve as a top-tier tech contractor for the campaign."
For those unaware, Alphabet is the parent company of Google, which owns the world's largest public DNS service.
To tangle the web even more, "Alphabet also had an ownership stake in Crowdstrike, which provided cybersecurity services to the DNC and took a leading role in investigating alleged Russian cyber-attacks against the DNC as well as the Clinton campaign," National File reported.
What a tangled web we weave.
Wikileaks published emails from 2014 in which John Podesta, then chairman of the Clinton campaign that Schmidt "clearly wants to be head outside advisor."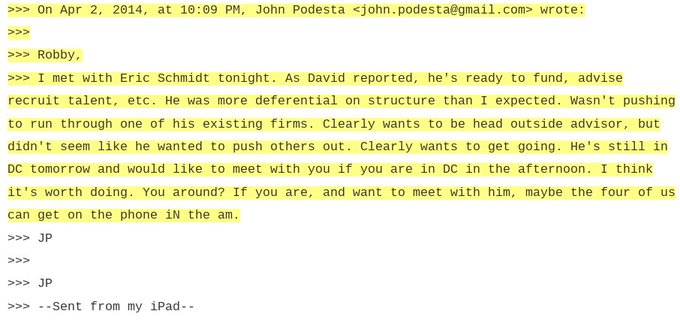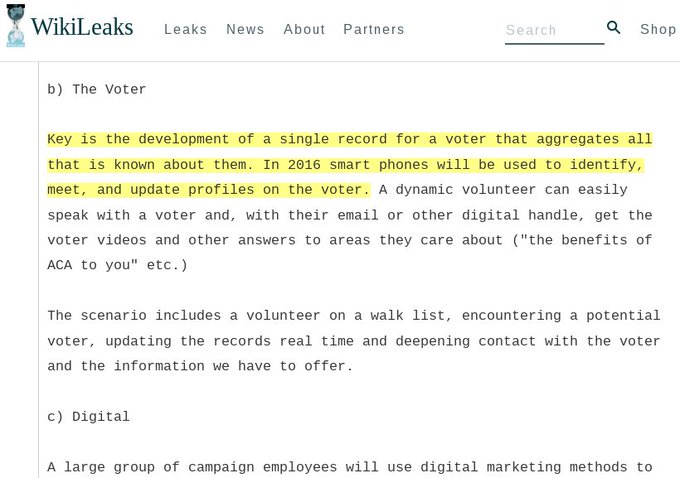 National File reached out to a Google whistleblower, Zach Vorhies and asked him to look at the document released by Durham.
Source: https://dailycaller.com/2021/09/24/hillary-clinton-war-criminal-queens-university-belfast/
'Go F*ck Yourself!': Hillary Clinton Gets Called A 'War Criminal' As She Walks Into University
A video posted to Twitter on Friday shows a crowd of people shouting at former Secretary of State Hillary Clinton as she walks into Queen's University in Belfast to be inaugurated as the school's new chancellor.
WATCH:

Members of the crowd repeatedly shouted "war criminal" as Clinton climbed the stairs flocked by security. Others can be heard shouting "Shame on Queens! Shame on you!" and "Go f*ck yourself!" (RELATED: Hillary, Bill Clinton Spotted Taking A Walk In The Hamptons)
The students were protesting America's foreign policy, according to BBC.
As a New York Senator in 2002, Clinton voted in favor of the war in Iraq. During her tenure as U.S. Secretary of State from 2009 to 2013, Clinton persuaded President Barack Obama to participate in the bombing of Libya, "leaving Libya a failed state and a terrorist haven," according to the New York Times. She also supported the 2009 troop surge in Afghanistan. (RELATED: Bill Clinton Escaped #MeToo)
Clinton, who was appointed in January 2020, spoke at the event for about 15 minutes, during which time she encouraged the people of Northern Ireland to "work together to resolve their differences over Brexit and dealing with the legacy of past violence," according to BBC.