By now it's become fairly evident that the original version of Bill Gates was replaced back in the early 2000′ with a programmable synthetic. But even back when he was still alive, I believe he was never anything more than a Steward and merely the public face of this world changing company and technology. It was likely Satan himself who came up with the tech behind the etheric IT technologies. The Legion Spirit has surely graduated from having to use lay-lines to traverse the earth into taking advantage of the very easy to use internet super highway. Wonder why they carried call it that? Fiberoptic lines, or any communication line really, might as well be high speed Monoraila for demonic spirits.
Source: http://techrights.org/2020/08/21/zoophilia-gates-estate/
Posted in Bill Gates, Law at 3:28 am by Dr. Roy Schestowitz
From the disclosure of NCMEC, received from Seattle's Police Department (hashes removed by us, though we have all the originals to prove authenticity):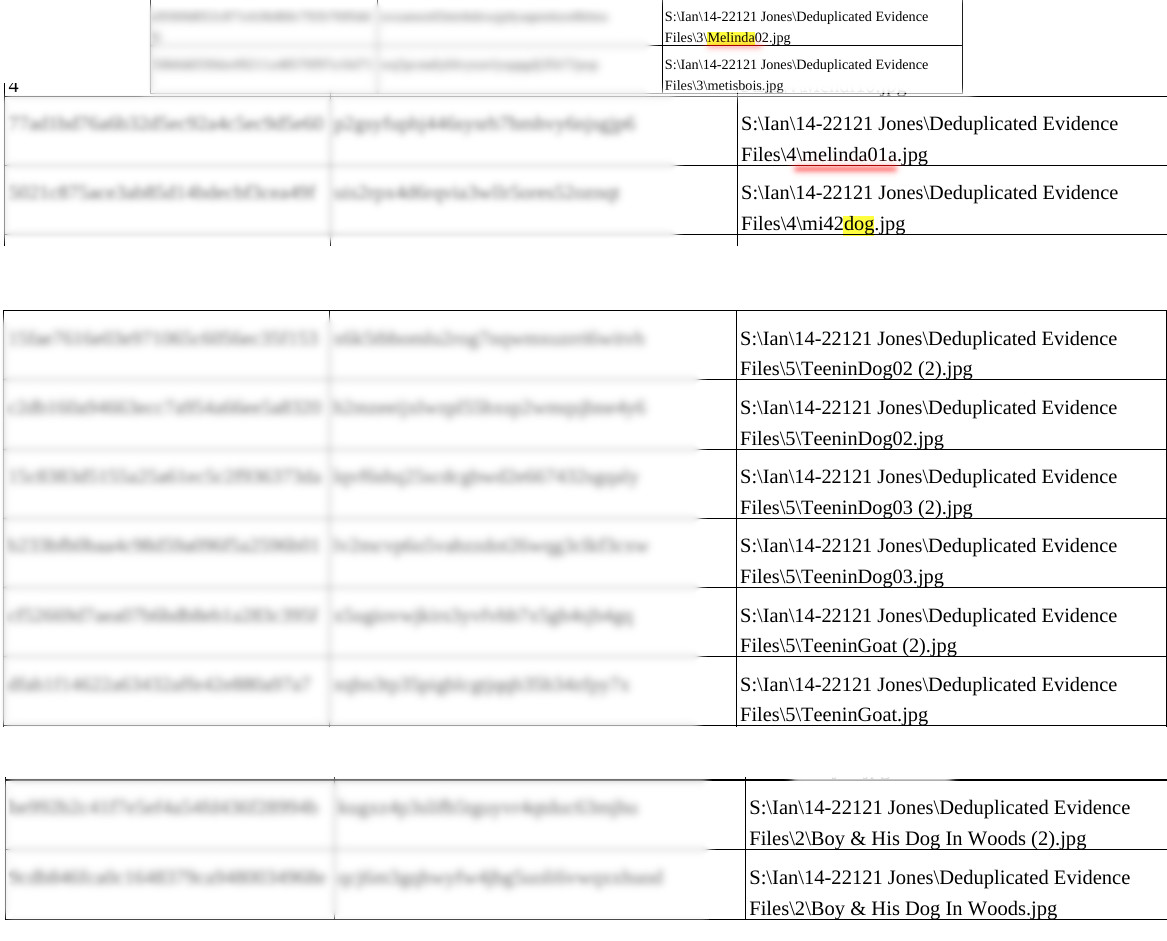 Summary: The files collected by the personal engineer of Bill and Melinda Gates (some stored on external media) keep getting weirder and weirder the closer one looks at the filenames; there are instances of zoophilia, sometimes padded by the name of the boss
Background:
---
BILL GATES' EMPLOYED PEDOPHILE ENGINEER ARRESTED WITH 6,000 VIOLENT CHILD RAPE IMAGES (VIDEO)
Porn Arrest At Bill Gates' Home (VIDEO)
Source: http://techrights.org/2020/08/04/police-report-gates-residence-arrest/
Release: Police Report About Arrest of Bill Gates Engineer for Pedophilia (Detained at Residence of Bill Gates)
Summary: Today we release 15 pages (amongst almost 3,000 pages we have) about the Jones arrest; this includes details about what happened when the detectives came to the home of Bill Gates
14-22121-1_Redacted

Release: 29 Pages of Internet Access Report About Pedophile Working for Bill Gates at His Home
Here is the original [PDF], in the interest of full disclosure and law enforcement transparency
Summary: As we've found nothing too sensitive in the document, today we're finally disclosing and publishing the second release (first one published yesterday); this includes network addresses used on the devices of the engineer of Bill Gates, who had a laptop and external hard drives (portable) with plenty of child pornography (imagery and videos)
14-22121-2

Source: https://truthandconspiracy.com/the-gates-of-hell-bill-gates-rick-allen-jones-jeffrey-epstein-and-the-high-level-pedophilia-connection/
The Gates of Hell: Bill Gates Is Tightly Connected to High-Level Pedophiles; Rick Allen Jones, and Jeffrey Epstein
By Sebastian Aguanno Jr. -September 7, 20201
In December of 2014, police arrested a Seattle man, named Rick Allen Jones, for possessing "more than 6,000 child rape photos"! Believe it, or not… Rick Allen Jones was personally employed by Bill Gates; working as His personal home "engineer"! Jones worked at the Gates home, and there, He was caught! Most don't know about this case, because of the media's silence; but the fact is, police did arrest Rick Allen Jones (inside Bill and Melinda Gates' house) for collecting "more than 6,000 child rape photos", and for trading images, via Gmail! https://www.kiro7.com/news/man-arrested-bill-gates-estate-reportedly-trading-/43531857/
(Notice, the video on the KIRO 7 News website was removed… Luckily, someone saved it.)
In a strange turn of events, even though Rick Allen Jones was caught red handed, and was charged with possession of child pornography, he was released, and has "not been jailed, but he is ordered to stay away from all children"; even though "the 51-year-old has been collecting child porn for a decade, according to King County prosecutors".
Apparently, investigators were "looking at Jones" since 2013. After He "shared a suspicious image through Gmail" in 2014, police were able to track down Rick Allen Jones in March, at Bill Gates' mansion! At the time, Rick Allen Jones, had three more warrants outs for His arrest. Police found more than "6,000 images of graphic child porn and rape". Out of the 6,000 images, police were able to identify 133 children.
Even though the police had clear evidence (6,000 images of graphic child porn and rape and proof He was sharing through Gmail), the (corrupt) police did not end up charging Rick Allen Jones (close friend and personal employee of Bill Gates) for possessing and sharing 6,000 images of graphic child porn and rape? No; they did not. In fact, according to KIRO 7 News, Jones was never jailed; not even for a single day. Instead, He was simply "ordered to stay away from all children."
So, I guess, that's that. There's nothing to see here… Bill Gates, unknowingly and unwittingly hired a personal "engineer", who just so happened to be a major pedophile, who is also most likely, connected to an ever larger pedophile ring… A situation which, by itself, could be seen as a just a total misjudgment of character on Bill Gates' part. So, case closed… But, is it?
As I said; if "a situation which, by itself, can be seen as a just a total misjudgment of character (on Bill Gates' part)"… but after learning about Gates' connection to America's most infamous serial pedophile, Jeffrey Epstein, the situation begins to seem much darker than it originally appeared.
First, we have Rick Allen Jones; Bill Gates' "personal engineer", who was caught with "6,000 images of graphic child porn and rape". The man is clearly a major pedophile, and very likely connected to a much larger pedophile ring; and yet, He was never charged… and Bill Gates was never questioned about His involvement (after all, the police ended up finding Rick Allen Jones at Bill Gates' mansion).
The real question is… If Rick Allen Jones was connected to an even larger pedophile ring, then which pedophile ring was He connected to?
Can you (the Reader) think of anyone, who was recently charged with procuring underage girls; and trafficked them around the world, for sex (prostitution) with "elite" business men?
Jeffrey Epstein comes to mind… But, was Bill Gates also connected to Jeffrey Epstein? Was eugenics their only mutual interest; or did they share another interest (perhaps pedophilia)?!
I believe the answer is yes. The more aware I become of the connection between Gates and Epstein, the more possible it seems, that Bill Gates, as they say, "pulled some strings" for his pedophile friend, and personal home "engineer"; Rick Allen Jones. It sickens me to my core.
I mean, it's not as if Bill Gates didn't know who Jeffrey Epstein was. He knew He was a pedophile; and He didn't care. According to the New York Times, "unlike many others, Mr. Gates started the relationship after Mr. Epstein was convicted of sex crimes…
Mr. Gates, the Microsoft co-founder, whose $100 billion-plus fortune has endowed the world's largest charitable organization, has done his best to minimize his connections to Mr. Epstein."
The fact is, Bill Gates lied when He told The Wall Street Journal, in October of 2019, "I didn't have any business relationship or friendship with him [Jeffrey Epstein]."
As Emily Flitter and James B. Stewart of The New York Times, reported: "In fact, beginning in 2011, Mr. Gates met with Mr. Epstein on numerous occasions — including at least three times at Mr. Epstein's palatial Manhattan townhouse, and at least once staying late into the night, according to interviews with more than a dozen people familiar with the relationship, as well as documents reviewed by The New York Times….
Mr. Epstein spoke with the Bill and Melinda Gates Foundation and JPMorgan Chase about proposed multibillion-dollar charitable fund — an arrangement that had the potential to generate enormous fees for Mr. Epstein." https://www.nytimes.com/2019/10/12/business/jeffrey-epstein-bill-gates.html