The Vaccine is TOTALLY Safe Guys…..🤥
RUMBLE: https://rumble.com/vogjz7-its-safe….html
99.7% Jabbed and the Highest COVID Cases? Shocking… (VIDEO)
Source: https://153news.net/watch_video.php?v=9U35WD2A76DN
The American paramedic died after the second dose of Pfizer vaccine
A California paramedic received a second dose of Pfizer in early January and died within four days. (Photo: Rumble)
X-ray worker who was 'so excited' to get Covid vaccine dies days after 'severe reaction'
Source: https://metro.co.uk/2021/01/27/x-ray-worker-was-so-excited-to-get-covid-vaccine-dies-of-reaction-13974169/
Source: https://chameleonfire1.wordpress.com/2021/04/23/vaccination-selfies-part-2-nine-tragic-stories/
In Part 1 I discussed the adverse reaction rates to Covid "vaccines" being reported (or under-reported), and why these statistics are likely a small fraction of the actual total. I also provided information about vaccine injury compensation programs, which again are woefully inadequate to the task. "Let the buyer beware" remains as essential a warning in today's world as it ever was. We share with these families the grief and stress they must be suffering and pray they receive loving support from loved ones and their communities. Given the way we have been abandoned to the ravages of corrupt governments and healthcare systems, that may be all that is left to us. That, and the vital role of knowledge in protecting ourselves and those we care about. (All links and references provided at end of article.)
Vaccination 'Selfie' #1: 18-year-old suffers blood clots
Emma Burkey, 18, suffered blood clots requiring three rounds of brain surgery following her J&J "vaccine." Image courtesy Children's Health Defense.
"Emma Burkey, a Nevada teen who received Johnson & Johnson's (J&J) Covid vaccine on April 1 underwent three brain surgeries to repair blood clots she developed about a week after receiving the vaccine, Las Vegas Review-Journal reported. According to family spokesperson Bret Johnson, after Burkey, 18, suffered seizures, doctors placed her in an induced coma and on a respirator. The high school senior has improved and is now awake and off the respirator, but still requires a tracheostomy tube, which has impaired her ability to speak."
"As The Defender reported April 16, Children's Health Defense queried data from the CDC's Vaccine Adverse Events Reporting System (VAERS) for events associated with clotting disorders. VAERS yielded a total of 795 reports for all three vaccines from Dec. 14, 2020, through April 8. Of the 795 cases reported, there were 400 reports attributed to Pfizer, 337 reports to Moderna and 56 reports associated with J&J."[1]
Vaccination 'Selfie' #2: 33-year-old woman partially paralyzed
"A healthy 33-year-old woman in Bethel Park, Pennsylvania, who asked to remain anonymous, experienced paralysis 12 hours after getting her first dose of the Pfizer Covid vaccine and is still hospitalized, WPXI-TV reported. The Pennsylvania woman said she initially felt fine after being vaccinated, but woke up in the middle of the night with no feeling in her arms or legs."
"Paramedics rushed her to the hospital where she was later transferred to the Cleveland Clinic where doctors ran tests to figure out how and why she suffered paralysis. An MRI and spinal tap were clear and blood work all came back negative, ruling out any rare diseases or disorders. Although she has regained feeling and strength in her arms, she has no function from her lower chest down besides very slight movement in a few toes."
"A search on the Centers for Disease Control and Prevention's Vaccine Adverse Events Reporting System (VAERS) for paralysis, including transverse myelitis, myelitis, paralysis and Guillain-Barré Syndrome (GBS), yielded 151 total reports. Eighty-eight cases of paralysis-related disorders were reported with Pfizer, 62 with Moderna and 11 with Johnson & Johnson's (J&J) vaccine."[2]
Vaccination 'Selfie' #3: 63-year-old woman dead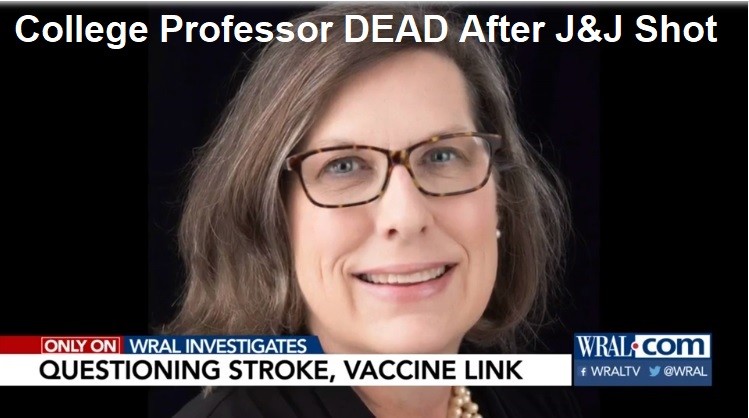 Virginia Ellington, 63, died just 48 hours after receiving the J&J "vaccine." Image courtesy Health Impact News.
"Family friends of Virginia Ellington, a North Carolina college professor who taught at Appalachian State University, have contacted Health Impact News to inform us of the 63-year-old's death just 48 hours after receiving the Johnson & Johnson COVID-19 vaccine."
"Ellington's daughter Becca Ingle said the local doctor, who did a preliminary examination, told the family that her mother died of a stroke. The local medical examiner, a paramedic and a teacher who signed the death certificate, wrote that the vaccine was one of the "significant conditions contributing to her death." Ingle says her mother was in good health prior to her death."
"Dr. Stephan Moll, a medical professor, researcher and hematologist at UNC Health, believes connecting the vaccine to a stroke is a rush to judgment. But the family is unconvinced. "It (the vaccine) definitely escalated things," Ingle said. "Whether she was going to have a stroke in 30 years or whether she was going to have it now, it definitely triggered it.""[3]
Vaccination 'Selfie' #4: 43-year-old Mississippi man paralyzed
"On April 15, it was reported that a healthy 43-year-old Mississippi man suffered a stroke and subsequent paralysis hours after being vaccinated with J&J's Covid vaccine. He is unable to walk or talk, and is paralyzed on one side of his body. The family believes 'without a doubt' the vaccine was the cause."
"A systematic review I SAGE journals of TM (Transverse Myelitis) revealed 37 cases of transverse myelitis reported with different vaccines, including MMR, hepatitis B and DPT. Researchers found that in rare cases, vaccines may be associated with autoimmune phenomena like transverse myelitis and speculated that a common denominator like an adjuvant, might trigger this syndrome."[4]
Vaccination 'Selfie' #5: 68-year-old Kansas woman dead
"Kansas Department of Health and Environment spokesperson Kristi Zears told The Wichita Eagle that Evans had an anaphylactic reaction during a waiting period after receiving the shot. She was transported to the hospital and pronounced dead a day later. It is not clear whether Evans had underlying health conditions and the Kansas health agency did not indicate which Covid vaccine was administered." [5]
"A March 26 report from VAERS revealed 2,306 reports of anaphylaxis in response to COVID "vaccines." Fifty-five percent of anaphylaxis reports were attributed to the Pfizer-BioNTech vaccine, 45% to Moderna and 1% to the Johnson & Johnson (J&J) vaccine, which was rolled out in the U.S. on March 2." [6]
Vaccination 'Selfie' #6: 39-year-old woman dead
"Kassidi Kurill, a 39-year-old healthy single mother from Utah died four days after taking a second dose of the Moderna COVID-19 vaccine on Feb. 1. According to local news channel KUTV, her family said that Kurill, who was a surgical technician for plastic surgeons, "had more energy" than most people around her and was a happy person with no known health problems. After receiving the "vaccine," her liver ceased functioning but she died before she could be stabilized in time for an organ transplant. Kurill's family is still waiting for an autopsy to determine the cause of death."[7]
Vaccination 'Selfie' #7: 36-year-old doctor dead
Dr. Barton Williams, 36, died several weeks after receiving his second dose of an unspecified Covid vaccine. Image courtesy Children's Health Defense.
"The Centers for Disease Control and Prevention (CDC) is investigating the death of Dr. Barton Williams, a 36-year-old doctor in Tennessee who died Feb. 8, about a month after receiving the second dose of a COVID vaccination. According to news reports, Dr. Williams died from the adult form of multisystem inflammatory syndrome (MIS-A), a condition caused when the immune system attacks the body resulting in multi-system organ failure. MIS-A is considered extremely rare. Dr. Todd Rice from Vanderbilt University Medical Center said most often, people who get MIS have either a mild or asymptomatic COVID case. "It's not the virus causing the damage here. It's the body's inflammatory response to the virus that is causing the problems," said Rice."[8] [9]
NOTE: This is also known in medical parlance as a "cytokine storm," when the immune system is over-stimulated and regulatory genes fail to shut off immune response before it begins attacking the body's own cells or organs.
Vaccination 'Selfie' #8: 58-year-old woman dead
Drene Keyes, 58, died hours after receiving Pfizer's Covid vaccine. Courtesy Children's Health Defense.
"State and federal officials are investigating the death of a 58-year-old woman in Virginia, who died hours after receiving the first dose of Pfizer's COVID-19 vaccine. Drene Keyes, described as a "gifted singer and grandmother of six," found herself unable to breathe and began vomiting within a couple hours of being vaccinated, according to media reports. She was rushed to Riverside Tappahannock Hospital, where doctors administered an EpiPen, CPR and oxygen."
"Keyes' daughter, Lisa Jones, told WKTR: "They tried to remove fluid from her lungs. They called it 'flash pulmonary edema,' and doctors told me that it can be caused by anaphylaxis. The doctor told me that often during anaphylaxis, chemicals are released inside of a person's body and can cause this to happen.""
"Virginia Health Commissioner M. Norman Oliver told NBC News today that "preliminary findings" indicate that the cause of death was not anaphylaxis, but it will take several weeks for additional information to become available. "We can confirm that the death occurred within hours of having received the vaccine, but that is not evidence of it being related," Oliver said."[10]
As Robert F. Kennedy Jr. writes: "The routine of reflexively dismissing suspicious deaths and injuries as unrelated to vaccination not only calls into doubt the official data tallies on vaccine injuries, it also contrasts markedly with the habit among public health officials of authoritatively attributing every death to COVID-19 so long as the deceased tested positive for Covid within 60 days of death using a PCR test notorious for producing false positives."[11]
"Pfizer touts a 95% efficacy rate in its clinical trials, but this is a meaningless measure of "relative efficacy" based on a tiny cohort of 94 people in the placebo group who got mild cases of Covid during the clinical trials. The "absolute," or "actual," efficacy of the vaccine during clinical trials was 0.88%. According to the British Medical Journal, this means that health authorities must administer 155 vaccines to avert a single case of mild COVID."[12]
Kennedy, the founder of Children's Health Defense, is a well-respected lawyer who has represented families whose children have suffered adverse, often life-altering reactions to vaccines, including autism.
Vaccination 'Selfie' #8: 60-year-old lab tech dead
"Officials in Orange County, California, are investigating the death of a 60-year-old healthcare worker who died four days after receiving his second injection of the Pfizer-BioNTech Covid vaccine. Tim Zook, an x-ray technologist at South Coast Global Medical Center in Santa Ana, was hospitalized on Jan. 5, several hours after being vaccinated. Zook's wife, Rochelle Zook, told the Orange County Register that her husband's health rapidly deteriorated over the next few days. He died Jan. 9. Tim Zook was "quite healthy" his wife said, though he took medication for high blood pressure and was slightly overweight."[13]
Vaccination 'Selfie' #9: 56-year-old doctor dead
Dr. Gregory Michael, 56, died of ITP-induced stroke weeks after receiving the Pfizer/BioNtech "vaccine." Medical examiners ruled there was no cause and effect despite his otherwise healthy condition. Yet another coincidence? Image courtesy Children's Health Defense.
"On January 3, Dr. Gregory Michael, a beloved Miami obstetrician and enthusiastic COVID-19 vaccine booster, died of a hemorrhagic stroke after receiving Pfizer/BioNtech's vaccine. Dr. Michael developed acute idiopathic thrombocytopenia purpura(ITP)—a known vaccine side effect—immediately after receiving the jab. His platelet count dropped from 150,000 to zero and never rebounded."
"An army of experts from around the world, involved in the vaccine program, consulted in doomed efforts to restore Dr. Michael's platelet count. The inevitable brain hemorrhage killed him two weeks later. Michael's wife said that her husband's death was "100% linked to the vaccine. She added that he was physically healthy, exercised often, rarely drank alcohol, never smoked cigarettes and had no known comorbidities."
"According to the New York Times: "Dr. Jerry L. Spivak, an expert on blood disorders at Johns Hopkins University, who was not involved in Dr. Michael's care, said that based on Ms. Neckelmann's description, 'I think it is a medical certainty that the vaccine was related.'" Yet according to the Miami-Dade County Medical Examiner Department, there was "no medical certainty" the vaccine caused Michael's death. Yet another coincidence? Come on. Get real. Have some human compassion for these poor families. [1]
[1] "Johns Hopkins Scientist: 'A Medical Certainty' Pfizer Vaccine Caused Death of Florida Doctor," The Defender, January 13, 2021: https://childrenshealthdefense.org/defender/johns-hopkins-scientist-medical-certainty-pfizer-vaccine-caused-death-florida-doctor/
REFERENCES:
[1] Megan Redshaw, "18-Year-Old Undergoes 3 Brain Surgeries From Blood Clots After J&J Vaccine," The Defender, Children's Health Defense, April 21, 2021: https://childrenshealthdefense.org/defender/teen-surgeries-blood-clots-johnson-johnson-vaccine/
[2] Megan Redshaw, "33-Year-Old Woman Hospitalized for 'Mysterious' Paralysis 12 Hours After Pfizer Vaccine," The Defender (Children's Health Defense), April 20, 2021: https://childrenshealthdefense.org/defender/woman-hospitalized-paralysis-pfizer-vaccine/?utm_source=salsa&eType=EmailBlastContent&eId=3fffbd18-32b9-4bab-bc45-05dadc90654f
[3] Brian Shilhavy, "North Carolina College Professor DEAD After Johnson and Johnson COVID Shot," Health Impact News, March 28, 2021: https://healthimpactnews.com/2021/north-carolina-college-professor-dead-after-johnson-and-johnson-covid-shot/
[4] Megan Redshaw, "33-Year-Old Woman Hospitalized for 'Mysterious' Paralysis 12 Hours After Pfizer Vaccine," The Defender (Children's Health Defense), April 20, 2021: https://childrenshealthdefense.org/defender/woman-hospitalized-paralysis-pfizer-vaccine/?utm_source=salsa&eType=EmailBlastContent&eId=3fffbd18-32b9-4bab-bc45-05dadc90654f
[5] Michael Stavola, "Kansas woman's obituary says she died from COVID vaccine reaction. State investigating," Wichita Eagle, March 25, 2021: https://www.kansas.com/news/coronavirus/article250196655.html
[6] Megan Redshaw, "68-Year-Old Dies After Anaphylactic Reaction to COVID Vaccine as CDC Continues to Ignore Inquiry Into Increasing Number of Deaths," The Defender (Children's Health Defense), March 26, 2021: https://childrenshealthdefense.org/defender/vaers-covid-vaccine-reactions-deaths-increasing/?utm_source=salsa&eType=EmailBlastContent&eId=2fb75a37-769f-48df-934d-5af97ed4f684
[7] Samuel Allegri, "39-Year-Old Mother Dies After 2nd Dose of Moderna Vaccine: Family," The Epoch Times, March 11, 2021: https://www.theepochtimes.com/39-year-old-healthy-utah-mother-dies-after-taking-second-dose-of-moderna-vaccine_3729443.html?utm_source=newsnoe&utm_medium=email&utm_campaign=breaking-2021-03-11-2
[8] "36-Year-Old Doctor Dies After Second Dose of COVID Vaccine," The Defender (Children's Health Defense), February 21, 2021: https://childrenshealthdefense.org/defender/doctor-dies-second-dose-covid-vaccine/
[9] Jeni Diprizio, "Memphis doctor believed to have died of rare COVID related syndrome," The Daily Memphian, February 11, 2021: https://www.localmemphis.com/article/news/investigations/i-team/memphis-doctor-believed-to-have-died-of-rare-covid-related-syndrome/522-7bb29487-c330-4de4-b1b0-188fe3865e35
[10] "58-Year-Old Woman Dies Hours After Getting First Dose of Pfizer Vaccine," The Defender (Children's Health Defense), February 5, 2021: https://childrenshealthdefense.org/defender/woman-dies-hours-after-first-dose-pfizer-vaccine/?utm_source=salsa&eType=EmailBlastContent&eId=d093802f-20de-48fa-8f8f-f45c77feae49
[11] Robert F. Kennedy Jr., "Death by Coincidence?" The Defender, January 14, 2021: https://childrenshealthdefense.org/defender/death-by-coincidence/?utm_source=salsa&eType=EmailBlastContent&eId=761dac27-c56c-48fd-956d-34abe8722c44
[12] For more information on actual efficacy rates of COVID "vaccines" in early trial data see: "Peter Doshi: Pfizer and Moderna's '95% Effective' Vaccines—We Need More Details and the Raw Data," January 5, 2021, The Defender (Children's Health Defense): https://childrenshealthdefense.org/defender/peter-doshi-pfizer-moderna-vaccines-need-more-details-raw-data/
[13] Kenneth Garger, "California health care worker dies days after receiving COVID-19 vaccine," New York Post, January 28, 2021: https://nypost.com/2021/01/28/ca-health-care-worker-dies-days-after-receiving-covid-19-vaccine/ (With additional information from Children's Health Defense.)
[14] "Johns Hopkins Scientist: 'A Medical Certainty' Pfizer Vaccine Caused Death of Florida Doctor," The Defender, January 13, 2021: https://childrenshealthdefense.org/defender/johns-hopkins-scientist-medical-certainty-pfizer-vaccine-caused-death-florida-doctor/
---